Bring me a head of cauliflower over a bunch of flowers any day.
Yep, I've always been this easy to please. My first memories of cooking with cauliflower began at the supermarket where mum trained me in how to pick the freshest veggies for our homemade vegetarian feasts – all reliant on the senses. Think Karate Kid but with more legumes and fewer spinning leg kicks. "Look for the slimmest aubergines – they contain the fewest seeds", "Always feel for the firmest okra – they're the freshest", "Shake the coconut and listen to hear if there's water inside – the flesh will be more tender". 20 years on and I remember these and hundreds more tips every time I pick fresh fruit and veg. I'm talking Russell Crowe in A Beautiful Mind but with zero algebra and loads of brassicas.
My lesson on picking the perfect cauliflower? The florets should be firm, pure white and the leaves enveloped around the cauliflower head. Bonus points for a lack of baby caterpillars.
When I was growing up in Yorkshire, I had incredible fresh ingredients from the local farm shop on my doorstep (not literally. – we lived above a newsagents, not in a field). I didn't know many other 13 year olds who preferred doing the food shop with mum over heading into town with friends, but that's okay. Back then I truly believed I was a bit odd. So, as a 27 year old, I wish to give my teenage self some advice…
Don't worry about being different to your friends, you're you and that's what makes you special.
Your obsession with cooking isn't weird. It'll help you later in life.
Don't be a jerk to your parents, they're your number 1 fans and love you unconditionally.
Stop obsessing over what you think makes people 'pretty'. You're fine the way you are. One day you'll find a husband who loves the whole you.
Your brother isn't as evil as he seems.
Friends come and go. Just hold on to the ones you really like 😉
Mess with your hair as much as you want. Dye it purple and forget what other people say. Your genes are badass.
Find beauty in everything. It's there, you just need to look hard enough.
Keep dancing in your bedroom every night.
You are not the only person in the world who feels 'this way'.
Dedicate your time exploring the things you love. A career will follow if you show people how passionate you are.
Talent is overrated – work hard and be patient.
Gently let go of people who bring negativity into your life.
Be respectful of other people's time.
Don't focus too hard on big aspirations and goals. Pay attention to the smaller ones and bigger things will come.
Before I burst into a crappy rendition of Baz Luhrmann's Sunscreen Song, I'd better get back to the recipe.
The cauliflower is first broken into small florets, scattered with a combination of turmeric, whole black peppercorns and cracked cardamom pods. After a liberal squeeze of lemon juice and a good rub, it's roasted in a hot oven until it's golden and tender. Once it comes out of the oven it's succulent and smokey, with a wicked texture that'll flabbergast all your meat-eating friends.
And the sauce? Let me tell you about the sauce. It's rich, creamy and all kinds of comforting. A base of ground almonds blended with fresh ginger, bay leaves, cinnamon and chilli keep it fresh but with a gentle heat that tricks out the cauliflower and dances the Giddha on your taste buds.
A hailstorm of fresh, summer peas add a welcome sweetness and crunch. Bonus points if you strip the pods and throw those in too. I used to love sitting at the table on a Sunday afternoon chatting with mum, drinking chai and shelling fresh peas. She taught me how you should always remove the inner membrane of the pod if you want to use it in a dish. Once, when I was at university I forgot to do it and my Matar Bhaat left a lot to be desired. The cooked pods were like actual shards of glass. I won't forget to do it again.
To make the perfect jeera (cumin) pilau, I usually start with a good-quality Basmati rice, cumin seeds and ghee. As this is a vegan meal, sub it for coconut oil. Actually, even if you're not vegan, I recommend you try this coconut version – it's seriously good and will make your house smell sublime too.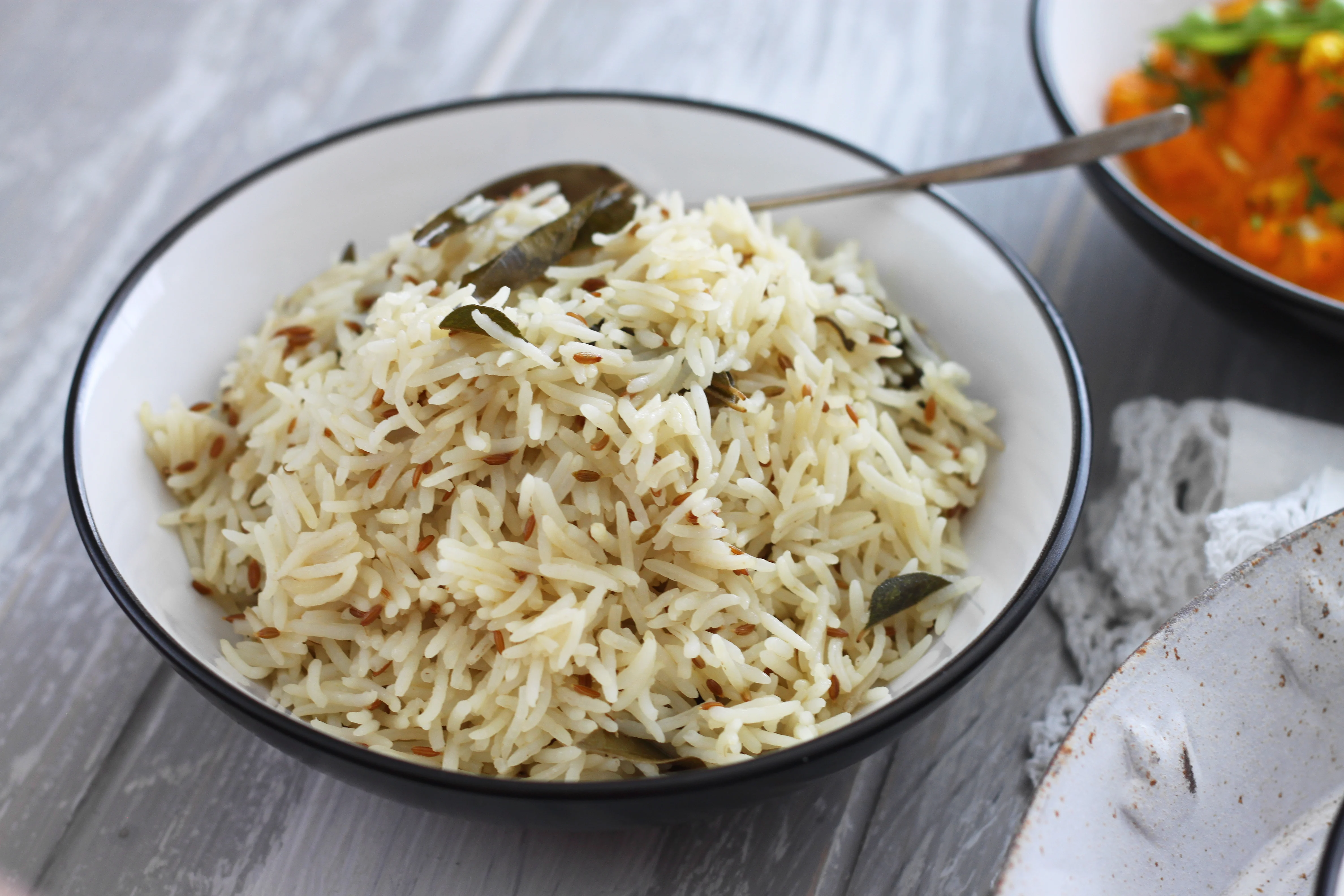 The trick to perfect rice is patience. Wash it in cold water for a minute to remove excess starch (I use a fine-holed sieve). Next soak it in cold water to soften the grains – 20 minutes will do. Boil the kettle. Heat the oil or ghee in a large, non-stick pan that has a tight-fitting lid. Add the aromatics. Wait a sec and then add the rice. Make sure it's well coated. Add double the volume of boiling water and some salt. Bring it to a boil and put the lid on. Turn the heat down very low and after 8 minutes, switch it off. Leave it with the lid on for 15-20 minutes. When you take the lid off you'll have amazing jeera rice.
Garnish the Vegan 'Butter' Cauliflower with a final flourish of chopped coriander and a drizzle of coconut milk for that luscious restaurant-style finish.
Serve with rice and hot chapattis.
Vegan 'Butter' Cauliflower and Perfect Jeera Pilau
Ingredients
For the cauliflower:
800g cauliflower, broken into small florets
1 tsp turmeric
1 tsp salt
Juice and zest of a lemon
3 whole cardamom pods, lightly crushed
5 whole black peppercorns
1 tbsp coconut oil, melted
For the vegan makhani sauce:
50g coconut oil
1 tsp ground cinnamon
3 tbsp ground almonds
6 small green chillies
2 tbsp freshly-grated ginger
2 cloves garlic, crushed
2 dried bay leaves
1 tbsp ground coriander
1 tsp turmeric
400g good-quality passata (sieved tomatoes)
2-3 tsp salt
2 tsp sugar
100g coconut cream
Fresh coriander, chopped
You'll also need: 300g fresh peas, shelled with the pod membranes removed (take a look at my instructions and Instagram video above if you don't know what I'm talking about).
Method
1. Pre-heat the oven to 180°C.
2. Place the cauliflower in a large roasting tray. In a bowl, combine the coconut oil, turmeric, black peppercorns, crushed cardamom pods, salt, lemon juice and zest. Drizzle the mixture over the cauliflower and use your clean hands to give it a good rub.
3. Roast the cauliflower for 25 minutes.
4. In the meantime, make the sauce. Heat the coconut oil in a large, heavy based non-stick pan. Add the cinnamon, green chillies, garlic, ginger, ground almonds and bay leaves. Sauté for a minute.
5. Next, add the passata, turmeric, ground coriander, salt and sugar. Bring to the boil. Put the lid on and allow to simmer on a low heat for 15 minutes.
6. Take the cauliflower out of the oven.
7. Remove the lid from the sauce pan and stir. Remove the peppercorns and cardamom pods from the cauliflower and add it to the simmered sauce.
8. Place the sauce in a blender along with the coconut cream and blitz for a minute or two until it's silky smooth.
9. Return the sauce to the pan and add in the peas and cauliflower. Stir and place the lid back on. Simmer on a low heat for 10 minutes. Check the seasoning, adding more salt if needed. Ladle into a big serving bowl. Garnish with chopped coriander and a drizzle of coconut milk.
Serve with jeera pilau and chapattis.
Perfect Jeera Pilau
Ingredients
185g good-quality Basmati rice (I use Golden Sela)
470g boiling water
1 tsp salt
2 tbsp coconut oil
1 tbsp cumin seeds
8-10 fresh curry leaves
2-3 whole cloves
Method
1. Wash the rice with cold water in a fine-holed sieve for a minute.
2. Soak the rice in cold water for 20-30 minutes.
3. Heat the oil in a large, non-stick pan with a tight-fitting lid. Add the cumin seeds, cloves and curry leaves. Sauté for a moment. They will snap and crackle.
4. Drain the rice and add it to the pan. Stir gently to coat all the grains.
5. Add the boiling water and bring the pan to the boil. Put the lid on and turn the heat right down. Simmer for 8 minutes.
6. After 8 minutes, switch the heat off and leave the rice to stand, undisturbed for 20 minutes.
7. Remove the lid and marvel at your perfect rice. All that's left to do is fluff up the grains with a fork, serve and demolish.
Love Sanjana