Mung beans, plus water, plus 72 hours is my kind of maths. Watching the process of mung beans cracking and sprouting over three days has fascinated me since the age of seven and it still fascinates me now I'm 30.
The shrill pitter patter of the mung beans being poured into a bowl and the swoosh and clatter of them being washed and rinsed reminds me of waves lapping the shore at Bamburi Beach, Mombasa. It's a place where I've had a bucket load of happy food memories.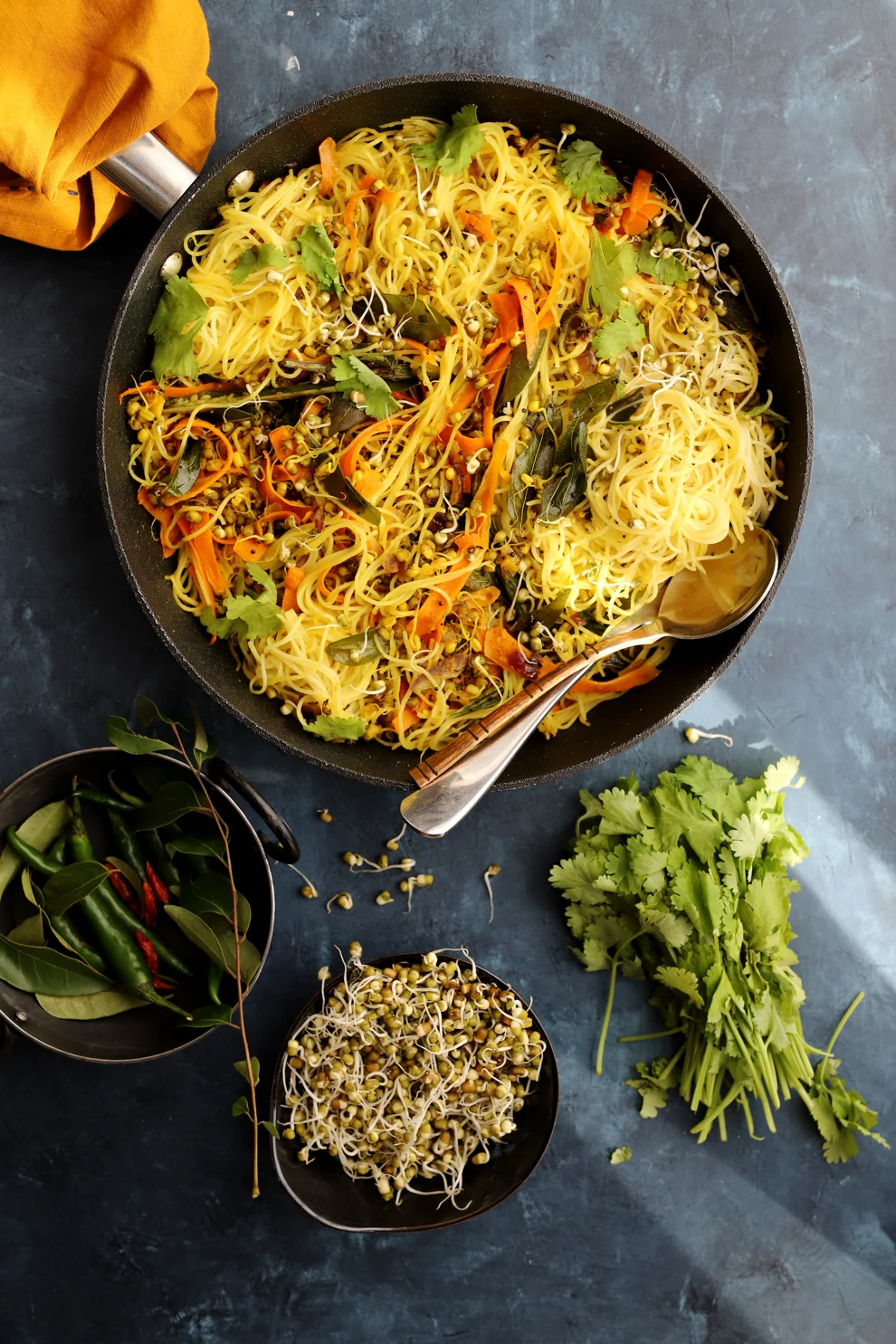 First the mung beans bloom; They're fat and full of water. Next, their sage skins crack and reveal the creamy white of the inside, rather like Japanese Kintsugi. After a few days and minimal TLC the mung beans begin to sprout delicate tendrils which get longer over the span of 24 hours. Full of goodness and earthy crunch, the mung beans are ready to eat.
Make your own sprouted mung beans by washing them and soaking for 24 hours. Once they're plump, drain the water from them and scatter them into a colander lined with kitchen paper. Cover with another piece of kitchen paper and leave them for 48 hours, trickling a little water on the top piece of kitchen paper after the first 24 hours. Keep them on the countertop at room temperature. After 72 hours, they will be ready to eat. You can store them in the fridge for 24 hours.
You can pack the sprouted mung beans into lunchboxes, toss them through salads, stir-fry them with spices or eat them straight up with a spoon. I like to pack some protein into my breakfasts and my go-to ingredients to do this are sprouted mung beans, tofu, cheese and edamame. This dish puts sprouted mung beans to good use.
My lightly stir-fried vermicelli noodles are tossed with sprouted mung beans, crackled mustard seeds, curry leaves, chillies and turmeric for a big, punchy breakfast number you'll cook again and again. Transform it into a filling lunch or dinner with the addition of pan-fried tofu.
Ingredients
150

g

sprouted mung beans

350

g

vermicelli noodles

2

medium carrots

peeled into ribbons with a vegetable peeler

2

tbsp

oil

2

tsp

black mustard seeds

10-12

curry leaves

1/4

tsp

asafoetida

2-3

dried red chillies

3-4

fresh green chillies

1

medium onion

diced

1/2

tsp

turmeric

1

tsp

salt

2

tbsp

fresh coriander

to garnish
Instructions
Cook the vermicelli according to the package instructions. Drain and set aside.

Heat the oil in a large, non-stick pan. Add the mustard seeds and allow them to crackle. Add in the asafoetida, curry leaves (stand back, they will splutter), fresh and dried chillies. Sauté momentarily and then add the onion. Cook the onion until translucent.

Next, add in the sprouted mung beans, carrots, turmeric and salt. Stir-fry for 4-5 minutes.

Finally, add in the cooked vermicelli noodles and toss to combine. Garnish with fresh coriander.
Pin it for later!