Here's how to make The Best Chocolate Samosa with a gooey, melting double chocolate ganache centre. I like to toss each golden, flaky samosa in cinnamon sugar for the most beautiful finish, reminiscent of the Spanish dessert, Churros with hot chocolate.
They are the perfect dessert for chocolate lovers, with their gooey, lava-like dark and white chocolate filling. The crispy, cinnamon sugar-coated pastry is the perfect finish and a great way to add spice and dimension to the sweet chocolate.
Filling for Chocolate Samosa
Types of chocolate
The most important thing when it comes to chocolate samosa is of course, the chocolate filling. I recommend using any good-quality chocolate. I use both 70% dark chocolate and my favourite Waitrose white chocolate in this recipe.
Burn baby burn
Most chocolate samosa recipes will call for the chocolate to be stuffed directly from the packet into the pastry. This is something I don't agree with. Cooking chocolate at a high heat will cause it to split, turn grainy and burn. Therefore, by the time the pastry is perfectly fried, the filling will have already died a death.
Why chocolate ganache is the way forward
The best option is to fill the chocolate samosas with homemade chocolate ganache. Not only is melted ganache deliciously smooth, it also cools beautifully so even if you eat the samosas at room temperature, the filling will have a truffle-like texture. Bliss!
I make both dark chocolate ganache and white chocolate ganache for this chocolate samosa filling. This produces a lovely marble centre. However, stick to one or the other if you prefer. Milk chocolate also works well.
How to make ganache with different types of chocolate
DARK CHOCOLATE GANACHE
200g dark chocolate (70% cocoa solids)
75ml double cream (heavy cream)
MILK CHOCOLATE GANACHE
200g milk chocolate
50ml double cream (heavy cream)
WHITE CHOCOLATE GANACHE
200g white chocolate
25ml double cream (heavy cream)
Pastry for Chocolate Samosa
For me, the best pastry for Chocolate Samosa are the homemade, part pan-cooked samosa sheets. We call this 'samosa par/samosa pad' and it is similar to a spring roll sheet or thin roti.
The dough is a simple mixture of plain flour, oil, salt and water. I think these produce the crispiest and most evenly cooked samosas.
It's important to roll the chocolate samosa pastry quite thinly. For this reason, a technique whereby discs of dough are rolled on top of each other, cooked and peeled apart after cooking is employed. This is the best way to make thin samosa sheets at home.
Confused? Don't be, I'll show you exactly how to do it.
Roll the samosa dough into discs and stack
Cook the samosa pastry sheets
More Samosa recipes you might like…
How to fold Chocolate Samosa
Now we have the filling and samosa sheets ready, the next step is to fold the samosas. Here, the most important thing to remember is that there categorically cannot be any gaps or holes in the pastry.
Holes in the samosa pastry will leave room for the melted chocolate to leak and you'll end up with very chocolatey frying oil and empty samosa shells. Sadness!
Here's how to fold Chocolate Samosa like a pro. Watch my video to see the process from start to finish.
Freeze the samosas before you fry
Once all the samosas are folded, freeze them for 6-8 hours until they're rock solid. This will prepare them for frying and ensure everything cooks quickly and evenly.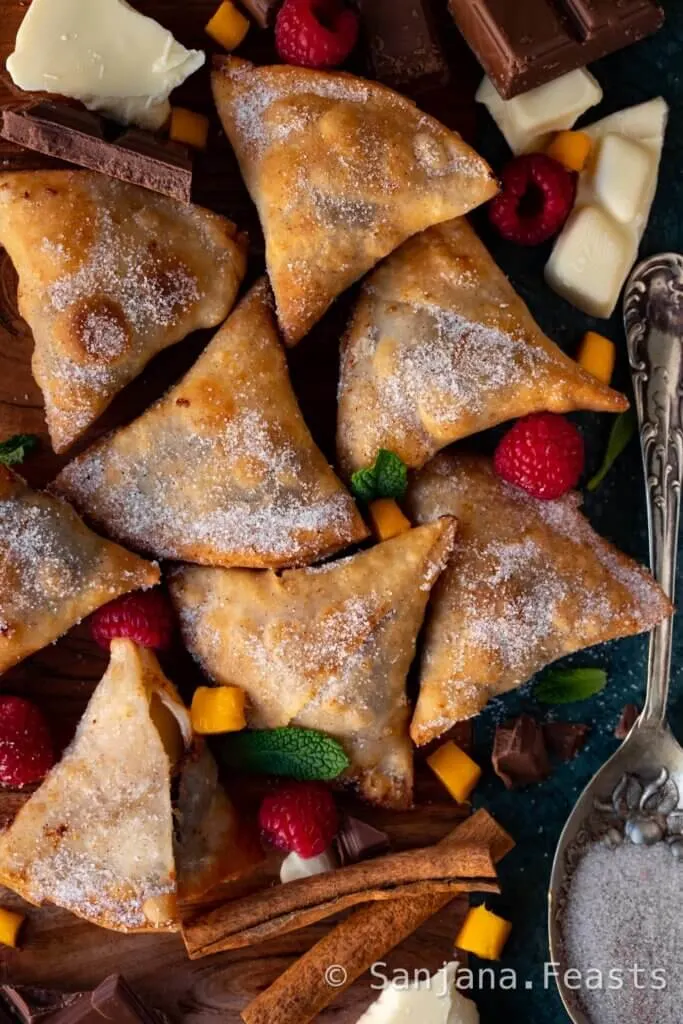 The cooking process
Heat any cooking oil of your choice in a large, deep pan, wok or kadai. The temperature of the oil should be 180°C/355°F. If you don't have a cooking thermometer, place the dry handle end of a wooden spoon in the oil. It should not sizzle immediately, but begin to sizzle after around 10 seconds. Once this happens, your oil is ready for frying samosas.
Fry the frozen samosas in small batches, taking care not to overcrowd the pan, since the oil temperature will drop as you add more samosas and the aim is to keep the temperature at the right level.
Cook the samosas, turning gently. They will take around 60 seconds to cook perfectly. Try not to keep them in the oil too long. The longer they're in there, the more likely it is they'll leak. Remove the samosas from the oil with a frying spoon and place on absorbent kitchen towel or in a colander to allow any excess oil to drip away.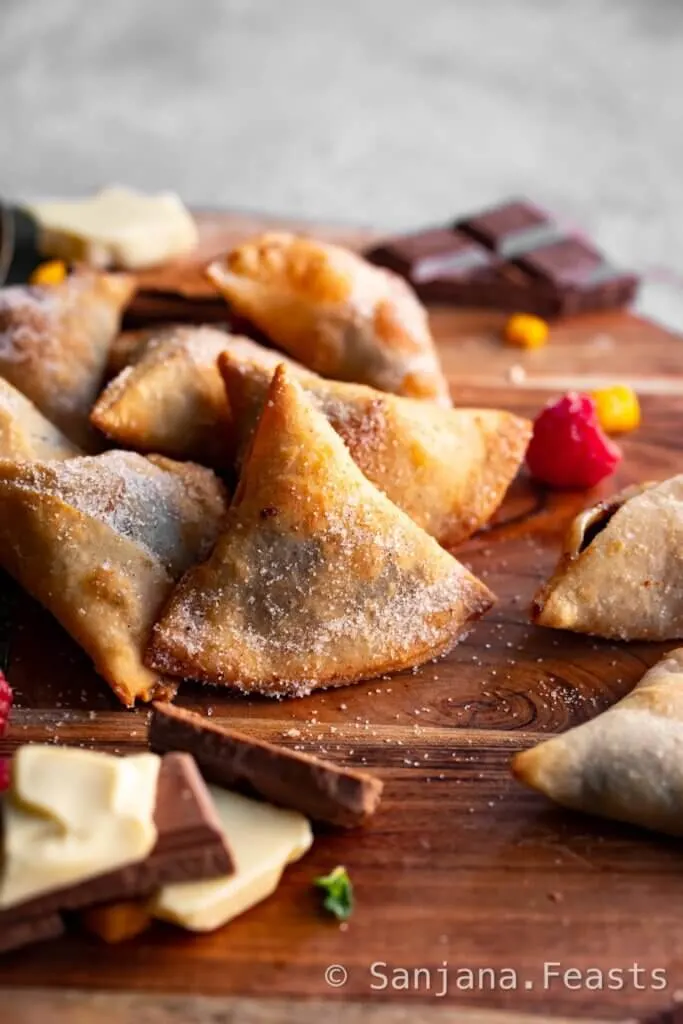 A list of ingredients you will need for this recipe
Dark chocolate (70% cocoa solids)
White chocolate
Double cream (heavy cream)
Plain flour (all-purpose)
Oil
Lemon juice
Water
Salt
Granulated sugar
Ground cinnamon
Chocolate Samosa tips, tricks and FAQ
Can I make Chocolate Samosa ahead of time?
You can make the chocolate filling for these samosas up to 3 days in advance. Store in an airtight container and refrigerate. I recommend making the pastry on the day, since it needs to be pliable enough to fold without cracking.
Can I freeze Chocolate Samosa?
Yes. Make them up until the point they need to be cooked and then freeze for up to 3 months. Ensure the chocolate samosas are well covered.
How to make Chocolate Samosas with other types of pastry
While my favourite pastry for chocolate samosas is this homemade version (which reminds me a bit of cannoli sheels), you can also make them with any of the following types of pastry:
Filo pastry
Puff pastry
Shortcrust pastry
Spring roll pastry
Can I bake or air fry samosas?
I don't recommend it. Friends, I tried and failed at air frying and baking my chocolate samosas. Despite being well folded (without holes), the filling leaked out all over the place and it wasn't a fun clean up operation. Do so at your own peril.
Do I have to add the cinnamon sugar?
Not at all, but it's really, really, really delicious. Churros vibes.
How to make vegan chocolate samosas
Are these gluten free?
They're not. Feel free to experiment with gluten-free flour blends though. I'd love to know how you get on! Leave me a comment and let me know.
How to serve Chocolate Samosa
Cut the sweetness and richness of these decadent chocolate-filled samosas with fresh fruit. I love them with diced mango and fresh raspberries. Strawberries and blackberries are fabulous partners too.
More ways to jazz up your dessert samosas
Dip your chocolate samosa in melted chocolate and chopped nuts. Allow to set before serving.
If you love hot and cold desserts, serve the dessert samosa with ice cream
Decorate with gold leaf for an ultra-lavish finish!
Make a chocolate samosa sundae or "sweet chaat"! Assemble right at the last minute. Break some of the warm chocolate samosas up, top with fresh raspberries, mango, ice cream (I love pistachio), chocolate sauce, nuts and sprinkles.
Chocolate Samosa recipe card
Yield: 12 samosas
The Best Chocolate Samosa
The most decadent dessert samosas with a melting dark and white chocolate ganache filling. Each samosa has a crunchy cinnamon sugar coating, too!
Prep Time:
1 hour
15 minutes
Total Time:
1 hour
20 minutes
Ingredients
For the dark chocolate ganache filling
200g 70% dark chocolate
75ml double cream
For the white chocolate filling
200g white chocolate
25ml double cream
For the samosa pastry
140g plain flour
70ml cold water
1/2 tsp lemon juice
2 1/2 tbsp oil
1/4 tsp salt
For the cinnamon sugar
50g granulated sugar
1/2 tsp ground cinnamon
For the flour paste
2 tbsp plain flour
4 tbsp water
Instructions
Start by preparing the chocolate ganache filling for the samosas. Place chopped dark chocolate in a medium heat-proof bowl. The smaller you chop the chocolate, the more quickly it will melt. Heat the cream in a small saucepan over medium heat until it begins to gently simmer. Do not let the cream come to a rolling boil. Pour the hot cream over the chocolate. Allow to sit for 2 minutes and then stir gently to combine into a smooth and silky dark chocolate ganache.
Repeat the above steps for the white chocolate ganache. Note that due to the lack of cocoa solids in white chocolate, much less cream is required. If you find the cream cools too quickly and the chocolate stops melting, microwave the mixture for 10 seconds and stir again. Do not overheat the ganache or it will split and turn grainy.
Set the bowls of ganache aside to cool. Once they come to room temperature, spoon teaspoon fulls of ganache onto a large, flat tray lined with baking parchment. Refrigerate the whole tray until you're ready to fill the samosas.
To make the pastry for the chocolate samosas, place the flour into a large bowl or plate suitable for kneading. Add the salt, lemon juice and oil. Using your fingertips, begin to rub the flour and the oil together to create a fine, breadcrumb-like texture, as if you were making shortcrust pastry. Add the water and combine using your hands to create a rough, shaggy-looking dough. Knead for 5 minutes, until smooth. Cover with a damp tea towel and allow to rest for 30 minutes.
Once rested, divide the dough into 18g portions. Smooth into rounds between your palms and cover again with a damp tea towel to stop the pastry from drying out. You can choose to make them larger or smaller by making fewer or more dough balls. Cover the dough portions and set aside to rest.
WATCH VIDEO FOR STEP-BY-STEP TECHNIQUE: Using additional plain flour to dust the work surface, roll out a piece of dough to a 5cm round. Repeat for another 2-3 portions. Brush one of the circles with a small amount of oil and sprinkle a pinch of flour all over the surface. Place another circle of dough on top and repeat the oil and flour process. Once you have 4 circles stacked, very gently roll with a rolling pin, until the dough measures around 6-7cm in diameter. This is a great way to ensure the samosa sheets are nice and thin.
Cook the stack of sheets in a non-stick pan, over a low heat. Do not let it brown on either of the sides. The dough should cook turn white on the surface and cook enough just so that you can peel the cooked sheet away. Continue to cook the sheets until all of them can be peeled apart. Stack and wrap the samosa sheets in a clean tea towel to keep them soft and pliable. Repeat these steps until you've cooked all the samosa sheets. If you're not confident, you can sandwich and cook two sheets at a time, rather than four or more.
Once you have all of your samosa sheet circles ready, cut the stack in half so you are left with semicircles.
In a small bowl, make a sticky paste from equal parts plain flour and cold water. You will need this to seal the edges of the samosas when you fold them.
To fill and fold the samosas, take one semicircle of samosa pastry and place it in front of you, straight line at the top. Hold the upper right corner and fold it downwards, toward the middle of the pastry. Spread some of the sticky flour paste on the outside of the folded pastry and repeat the fold from the left side, sticking the pastry down to form a cone shape. Press the seam together to ensure the pastry is well sealed.
Fill the samosa with the chilled chocolate ganache, You can make all dark chocolate and all white chocolate samosas or mix the ganaches up for marble or double chocolate samosas. Do not overfill the samosas. 1-1/2 tsp ganache per samosa is plenty.
Spread some more of the sticky flour paste around the open base of the samosa and press well to seal. Try to expel any air from inside as you pinch.
Repeat these steps for the remaining samosas. Place all the samosas on a large tray, cover with cling film and freeze for 4-5 hours, or until solid.
Heat 1L oil in a pan suitable for deep frying. Once the oil reaches a temperature of 180°C/355°F, carefully place the samosas into the pan. Fry, turning once or twice and being very careful not to break the samosas. It's okay if a small amount of chocolate leaks out. Remove from the oil and set aside to cool for 2 minutes.
In a small bowl, mix together the sugar and cinnamon. Sprinkle the cinnamon sugar over the warm samosas to coat. Serve immediately.
Notes
For an ultra-decadent dessert, serve the hot samosas on a platter, topped with or dipped in melted chocolate, a sprinkle of chopped nuts, fresh fruit, ice cream and sprinkles. It's messy, it's fun, it's indulgent and of course, it's utterly delicious!
Nutrition Information:
Yield:

12
Serving Size:

1
Amount Per Serving:
Calories:

298
Total Fat:

19g
Saturated Fat:

9g
Trans Fat:

0g
Unsaturated Fat:

8g
Cholesterol:

14mg
Sodium:

70mg
Carbohydrates:

30g
Fiber:

2g
Sugar:

18g
Protein:

4g
Nutrition information isn't always accurate.
Pin this recipe for later
More recipes to explore
Golden Air Fryer Samosas
Here's a delicious recipe for the crispiest air fryer samosas. You won't believe these lightly-spiced, vegetable parcels aren't deep fried! They're vegan-friendly too.
Pull-Apart Samosa Bread
My Pull-Apart Samosa Bread is packed with spicy vegetable samosa filling. If you're craving those ever-popular Indian snacks, but want something a little out of the box for your next party, this is the recipe for you.
Check out this recipe
Giant Sharing Samosa
Make light work of preparing Indian samosas with this simple but show-stopping giant version. It's stuffed with a classic combination of potatoes, peas and spices, then oven baked to golden perfection.
Check out this recipe
Mombasa-Style Daal Kachori
Crispy bites of pastry-covered daal. These kachoris are inspired by the ones sold at the famous Bhagwanjis sweet mart in Mombasa, Kenya. My entire family rave about these Kenya-style Kachori with moong daal and sour green mango.
Check out this recipe
Crispy Popcorn Bhindi Bites
Crispy, spiced nuggets of okra served with a hot and spicy vegan mayo. Put the natural stickiness of okra to work by creating a "glue" for crunchy panko breadcrumbs and coconut. Fry or bake for a delicious, golden snack. Once you start, you won't be able to stop eating. Dip them in my Atomic Red Chilli Mayo for addictive heat!
Love Sanjana