Try this easy recipe for fluffy Coconut Rice. In a few easy steps, you can enjoy extra long grains and exotic coconut aromas.
This delicious coconut basmati rice or Coconut Pilau is so delicious with curry, daal, grills and stews.
This recipe for coconut rice is…
Easy to make
Delicious with any meal
Budget friendly
Simple to veganize and make gluten free
What is coconut rice?
Coconut rice is a delicious and versatile dish that is made by cooking rice in coconut milk or coconut cream. I cook mine in coconut milk.
It's a staple food in many Southeast Asian cuisines and works well with a variety of other dishes.
It's also popular in other parts of the world, including the Indian subcontinent, Africa, the Caribbean, South America and the Pacific Islands.
Coconut rice is often served as a side dish, but it can also be used as a base for other dishes, such as curries, stir-fries or even biryani.
This fragrant rice is delicious with…
How to make coconut rice more flavourful
There are many different ways to flavour coconut rice. It almost always contains coconut milk and/or fresh coconut.
You can add spices, stock, herbs, vegetables, beans or fruits to the rice to create your own unique flavour profile.
For this recipe we'll add grated coconut, coconut milk, cumin seeds and fried onions to create the core flavours.
Tips and tricks for cooking long grain Basmati rice
Long grain basmati rice or sela rice is the best type of rice to use for this dish.
It has an incredible aroma and fluffy texture that pairs well with the creamy coconut milk.
Use the best basmati rice your budget allows for. It doesn't have to be the most expensive brand on the shelf
Wash the rice gently, in plenty of cold running water, or by changing the water 2-3 times
Soak the rice in plenty of cold water for 30 minutes
Substitute for Basmati rice
If you don't have Basmati rice, try a long-grain Jasmine rice instead.
Dish pairings for coconut rice
Here are some dish pairings that go well with coconut rice:
Thai curries, stir-fries and soups
Indian curries, daal and rasam
Indonesian satay and kari
Jamaican jerk dishes, Guyanese pepperpot, curry and stew
Filipino adobo
Notes for vegan and gluten free diets
To make vegan coconut rice, use any plant-based oil to sauté the spices at the beginning of the recipe. You don't have to use ghee.
For gluten free diets, be sure to check the label on your asafoetida. Many brands contain wheat flour. Rice flour varieties are also available.
Pure asafoetida is much more pungent and will need to be ground in a pestle and mortar prior to use.
Ingredients for Coconut Rice
Long-grain basmati rice – use your favourite brand
Cumin – whole cumin seeds
Green cardamom pods – crack them slightly before adding to the rice
Asafoetida – also known as 'hing' (optional), a spice that gives the rice a unique leek flavour
Golden fried onions – make your own or buy them pre-fried from your Asian food store
Red chilli – as much or as little as you like
Full-fat coconut milk – I use canned. Use light coconut milk for a less creamy option
Salt – fine salt or sea salt
Oil or ghee – any neutral oil will do, or use pure ghee
Toasted coconut – fresh, frozen or desiccated – choose your favourite, or what's available
Step-by-step instructions for making Coconut Rice
1. Wash and soak the rice
Place the rice in a sieve and wash in plenty of cold, running water until the water runs relatively clear. Alternatively, wash it in a few changes of water.
Soak the rice in plenty of cold water for 30 minutes. Drain well.
2. Sauté the rice with spices
Heat the oil or ghee in a heavy-based pan. Add the cumin seeds, cracked cardamom pods and asafoetida. Sauté for 20-30 seconds.
Add the drained rice and sauté the rice well, for about 90 seconds, over a medium heat. Stir all the time, taking care not to break the grains.
3. Add the coconut milk and simmer
Add the coconut milk and hot water. Season with salt.
Stir gently and simmer uncovered over a medium-high heat for 5 minutes, or until the rice has absorbed most of the liquid.
The last remaining liquid should be bubbling at the surface if the rice.
4. Cover the pan
Turn the heat down to very low and cover the pan. Allow the rice to finish cooking in steam for 4-5 minutes.
Switch the heat off. Do not remove the lid.
5. Rest the rice
Leave the rice (covered) for 20 minutes. Do not remove the lid at any point during the resting time.
6. Fluff the rice up with a fork
Remove the lid. Garnish with toasted coconut, fried onions and chopped red chilli pepper.
Fluff the grains up with a fork and serve.
Coconut Rice recipe | How to make Coconut Rice | Pilau Rice recipe
Yield: 4-6 servings
Coconut Rice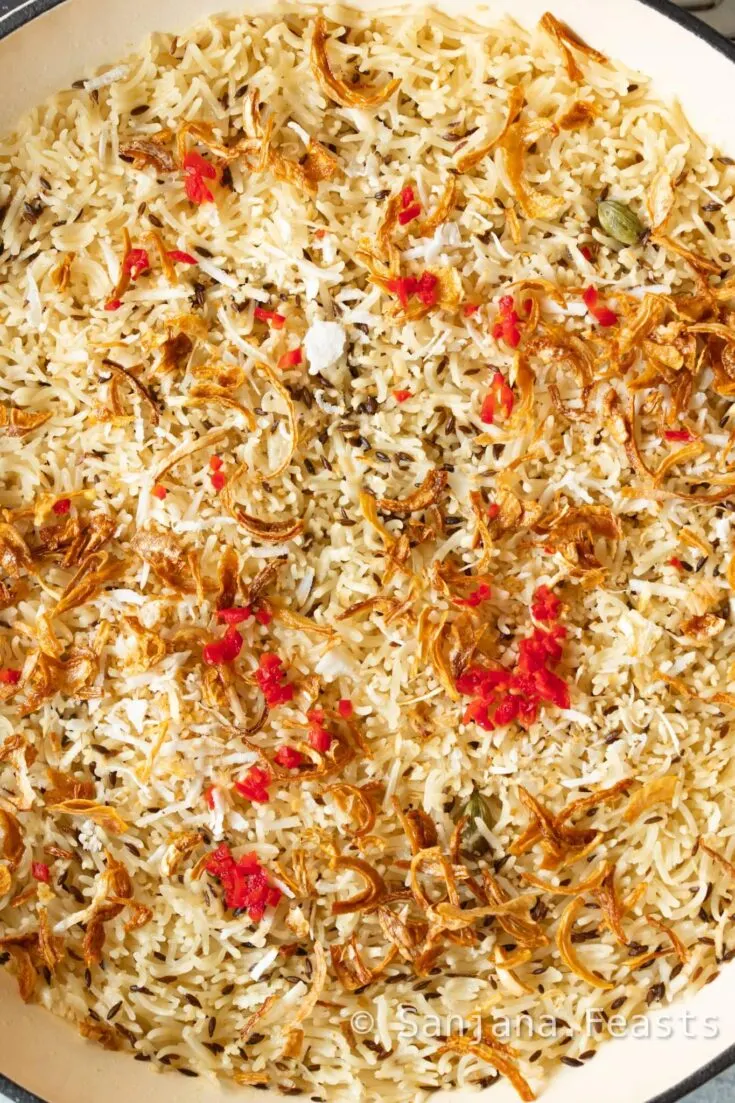 Try this easy recipe for fluffy Coconut Rice. In a few easy steps, you can enjoy extra long grains and exotic coconut aromas. It's delicious with curries, stir-fries, stews and grills.
Additional Time:
20 minutes
Ingredients
250g long-grain basmati rice
2 tsp oil or ghee
1 tsp cumin seeds
2 green cardamom pods, cracked
1/4 tsp asafoetida (optional)
1 red chilli, finely chopped
250 ml full-fat coconut milk
200 ml water, freshly boiled
3/4 tsp salt
For garnishing
25 g golden fried onions
1 tbsp toasted coconut (fresh or desiccated)
1 tbsp grated fresh coconut (optional)
Instructions
In a large bowl, mix the rice with plenty of cold water, swishing around to release excess starch. Drain and repeat with 3 more changes of water, or until the water runs mostly clear. Alternatively, place the rice into a sieve or colander and wash under cool, running water until water runs mostly clear. Place the rice into a large bowl and add plenty of fresh, cold water. Soak for 30 minutes. Drain well.
Heat the oil in a heavy-based pan (one that has a tight-fitting lid). Add the cumin seeds, cardamom pods, and asafoetida. Sauté over a medium heat for 15-20 seconds before adding the drained rice.
Next, over a medium-high heat, sauté the rice in the oil for 1-2 minutes, until the grains are coated with oil and ever so slightly toasty in places. They don't need to change colour all over. Be careful you don't break the grains. A silicone or wooden spatula will help you toss the rice without breaking it. If you like, you can add a sprinkle of fresh or desiccated coconut at this stage.
Add the coconut milk, freshly boiled water and salt. Stir briefly and bring to a roaring boil. Allow the rice to cook without a lid for 5-6 minutes, or until the most of the water and coconut milk has evaporated and just a small amount of liquid bubbles at the surface of the rice. See my video at the bottom of this recipe card for a visual guide. At this point, cover the pan with a tight-fitting lid. Cook over a low heat for 4 minutes and then switch the heat off.
Allow the rice to sit (covered) for 20 minutes before uncovering the pan and forking through to separate the grains. Do not uncover the pan before the 20 minutes have passed.
Garnish the rice with golden fried onions, toasted coconut and optional fresh coconut.
Notes
Use your favourite variety of long-grain Basmati. I use Hanuman brand rice which produces incredibly long and fluffy grains. Golden sella rice is also great.
Short grain rice may also be used if that's what you prefer. The amount of water and cook times will need to be adjusted accordingly.
Be sure to wash the rice before cooking. This cleans the grains and removes excess starch. Soak for a minimum of 30 minutes. The longer the rice soaks, the shorter the cooking time will be. The instructions and timings in this recipe are based on a 30 minute soak time.
Golden fried onions are available to buy pre-packaged in South Asian supermarkets.
Use low-fat coconut milk for a lighter finish.
Nutrition Information:
Yield:

6
Serving Size:

1
Amount Per Serving:
Calories:

266
Total Fat:

17g
Saturated Fat:

10g
Trans Fat:

0g
Unsaturated Fat:

5g
Cholesterol:

17mg
Sodium:

659mg
Carbohydrates:

21g
Fiber:

1g
Sugar:

1g
Protein:

8g
Pin this Coconut Rice recipe for later
If you like this, you'll love my recipe for Shahi Daal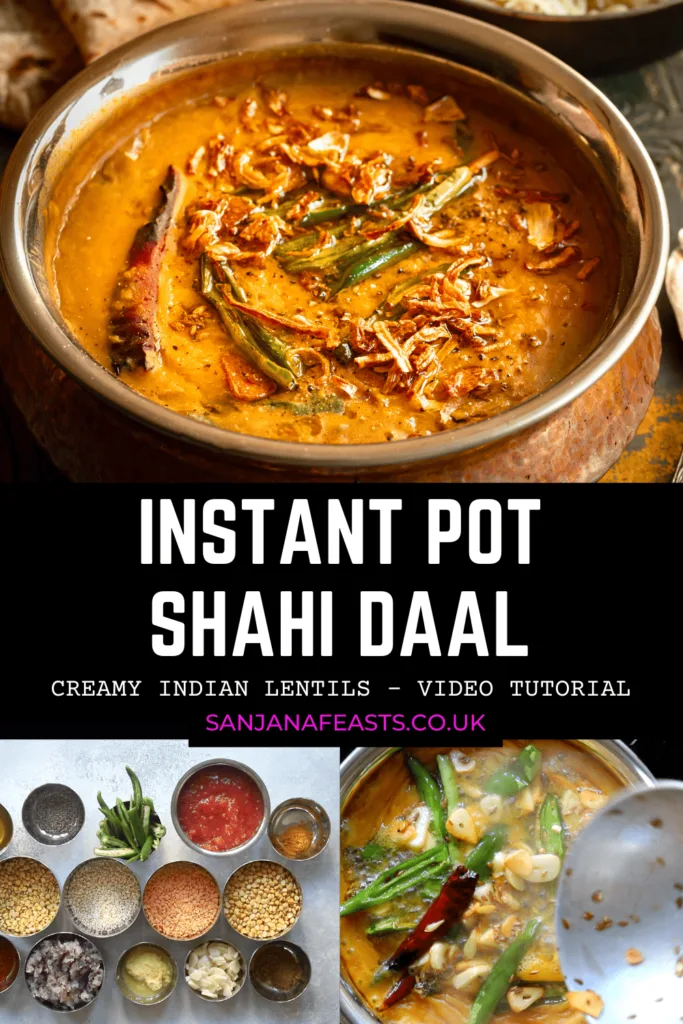 More recipes you might like
Vegetable & Coconut Milk Kurma
This simple coconut milk-based curry is rich with aromatic spices, nuts and a rainbow of colourful vegetables. Make it in an Instant Pot if you have one, or simply simmer away on the stove. Serve with dosa for a delicious vegan meal that's gluten free too. It also pairs perfectly with rice, roti or paratha. Feel free to add any vegetables you have in the fridge, as long as the total weight is around 600g.
Check out this recipe
Foolproof Indian Boiled Rice
Learn how to achieve the longest, most separate grains of rice with this easy recipe for boiled Basmati rice. Serve alongside your favourite curries and daals.
Check out this recipe
Thai Basil Tempeh & Firecracker Rice
Thai Basil Tempeh & Firecracker Rice – A mouthwatering combination of sweet and spicy flavours that tastes a million times better than a takeaway!
Check out this recipe
Easy, Creamy Palak Paneer
Palak Paneer is a stick-to-your-ribs North Indian treasure that was made to be a filling vegetarian option. Serve with laccha paratha, roti, naan or rice!
Check out this recipe
With love and Coconut Rice,
Sanjana