Paneer Curry is an excellent vegetarian option for an easy Indian weeknight dinner. Serve it with roti, naan, paratha, rice, or even in wraps and dosa.
This recipe for paneer masala is a dry-style preparation with an Indian base gravy of onions, tomatoes, ginger, garlic, chillies and spices. It's aromatic and can be adjusted to suit any tastes, mild or spicy!
There are so many different varieties of Paneer Curry, from Shahi Paneer, to Paneer Makhani, Saag Paneer, Palak Paneer, Matar Paneer and more. This is one of the simplest versions I make.
This simple curry is…
Vegetarian
Easy to make
A good source of protein
Rich in flavour
What is Paneer?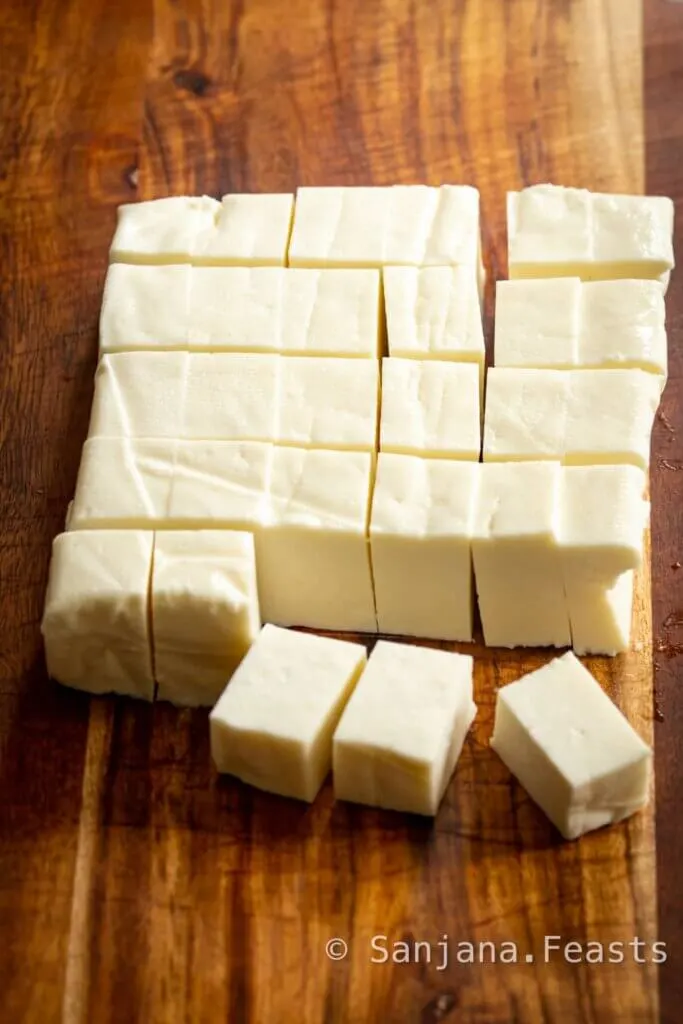 Paneer is a type of Indian cottage cheese made with cow's milk or buffalo milk. We make it by curdling milk with lemon juice or vinegar.
The curd is then strained and pressed to form a block of cheese.
What does paneer taste like?
Paneer has a mild, milky flavour and a firm texture. Shop-bought varieties of paneer tend to be firmed than homemade, which can crumble easily.
Does paneer melt?
No, paneer is a non-melting cheese and so, is perfect for curries, grilled kebabs, stir fries and bread fillings. Treat it as you would cook halloumi.
Do I need to cook paneer before putting it into curry?
No. Paneer is already cooked. So it's not essential that you cook it prior to adding to curry. Some people like a golden brown colour on the outside.
If you like, you can shallow fry, deep fry, or grill paneer before adding it to a curry. This will create a golden crust on the outside.
The famous dish, Paneer Tikka Masala calls for paneer to be cooked in a tandoor (clay oven) before adding to the rich tikka masala gravy. All dishes call for different methods of preparation.
Why do some people soak paneer first?
Another way to refresh very firm shop-bought paneer is to first cube it, and then soak in hot water to soften. 5-10 minutes is enough time to soak paneer.
It is not necessary to soak homemade paneer. Doing so can lead to very crumbly or broken paneer.
If you soak paneer first, do not fry it. The water can cause the paneer to explode which is very dangerous in hot oil.
I recommend the reverse soak method for soft paneer that's golden on the outside. Since paneer does not stay crispy in a curry/gravy, there's no need to worry about it softening on the outside.
How to make paneer soft: The reverse soak method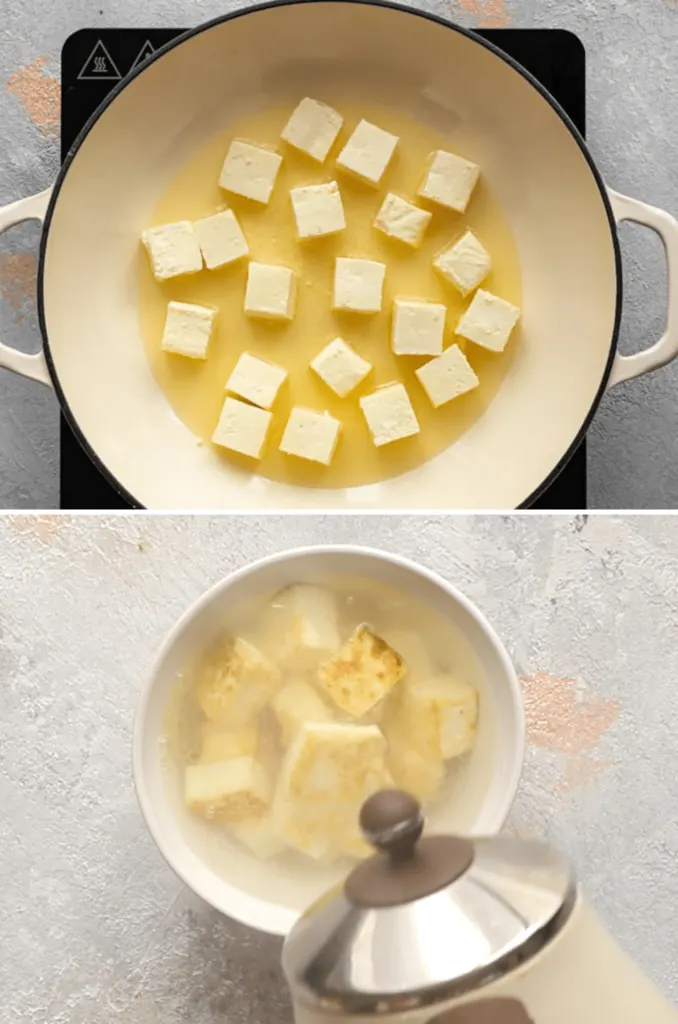 Many curry recipes will call for paneer to either be fried or soaked prior to adding it to the gravy.
While neither of these steps are necessary, they can improve the overall texture of the paneer for a more enjoyable eating experience.
The reverse soak method is something I've done for years and it produces amazingly soft paneer, with an appetising golden colour on the outside.
This is a technique I swear by and you can use it for other paneer-based Indian curry recipes like Paneer Makhani, Matar Paneer, Shahi Paneer and Paneer Butter Masala.
Ingredients for Paneer Curry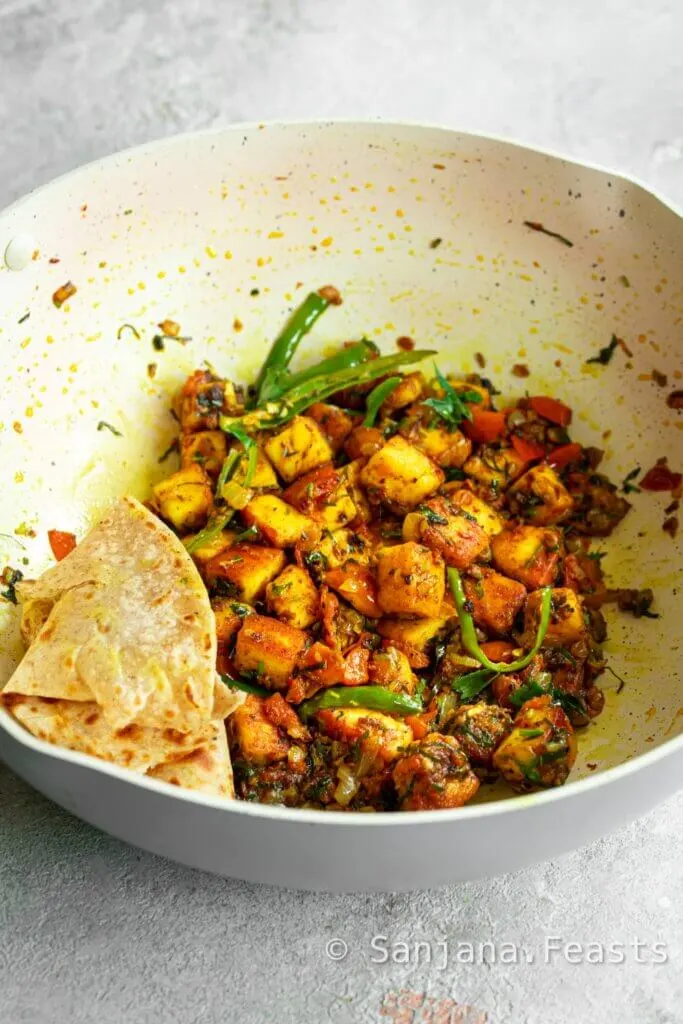 Paneer – feel free to use shop bought paneer as I have done here. Homemade paneer produces an amazingly soft and creamy texture, should you have time to make it.
Ghee or oil – I use ghee for added richness, but feel free to use any cooking oil
Cumin seeds – whole brown cumin seeds for a deep earthiness
Black pepper – Crack whole black peppercorns coarsely just before using for the most potent heat
Asafoetida – hing or asafoetida is a spice derived from the gum of a tree. It has a strong onion/garlic flavour. Optional.
Chillies – I like using Indian green finger chillies but you can use any chillies you like, or even chilli powder.
Onion – chop the onion finely so that it browns quickly
Tomato – again, chop your tomato finely so it softens into the onion masala fast. Use 2-3 teaspoons of tomato purée and some water if you don't have fresh tomatoes
Ginger – mince fresh ginger finely or slice into juliennes
Garlic – crush or mince
Curry leaves – finely chifonade into thin strips
Fresh coriander leaves – we add these into the spice tempering along with curry leaves, and at the end
Turmeric – for a beautiful colour
Garam masala – a warming Indian spice blend. Use shop bought, or try my Homemade Garam Masala
Steps for making Paneer Curry
1. Lightly-fry the paneer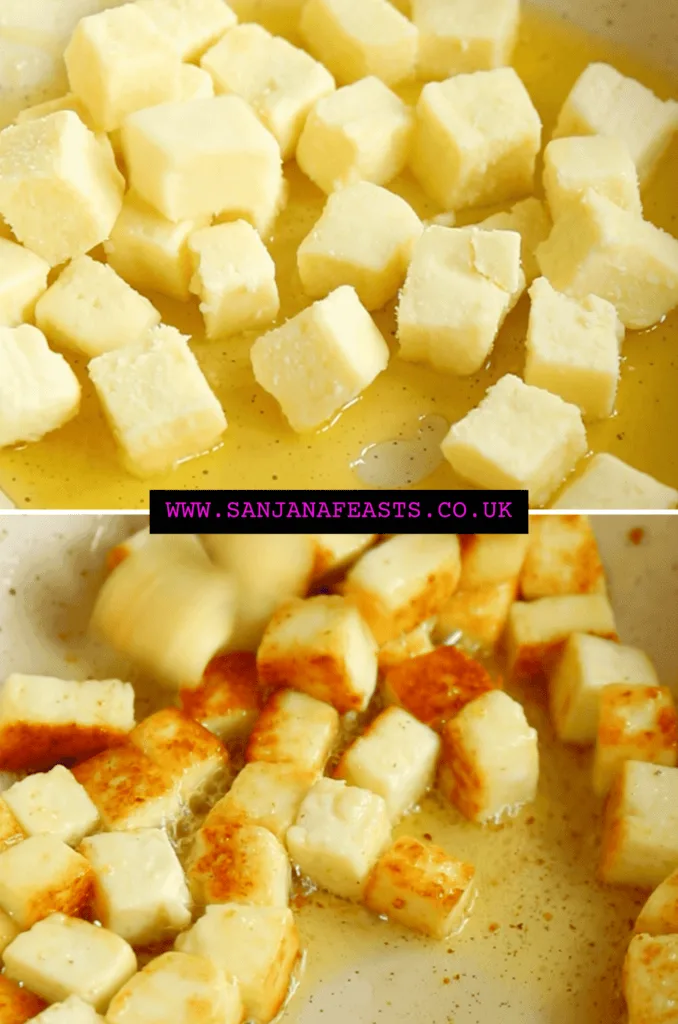 This is an optional step. I like the golden colour of the paneer in this curry and the first texture of paneer in a dry curry.
You can use any of the above cooking methods for the paneer, or choose to avoid pre-cooking it. The choice is yours.
2. Cook the whole spices and aromatics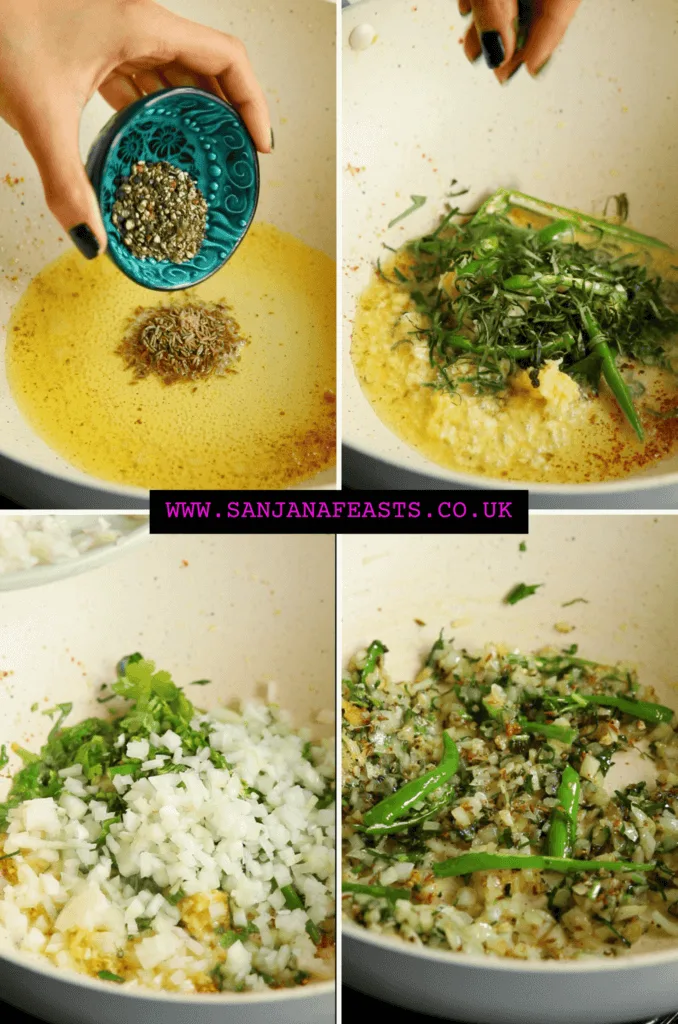 As is the case with any curry, it's important to temper the spices in hot fat before you begin adding other ingredients.
Most spices are fat soluble, which means their favours are best extracted through oil or ghee.
3. Brown the onions
Before adding the paneer, it's a good ideas to spend a few minutes browning the onions and cooking the aromatics down. Do this over a low heat.
The sweetness of browned onions (bhuna) will balance the heat of the chilli and the sourness of the tomato.
4. Add tomatoes and dry spices… Now wait for the oil to separate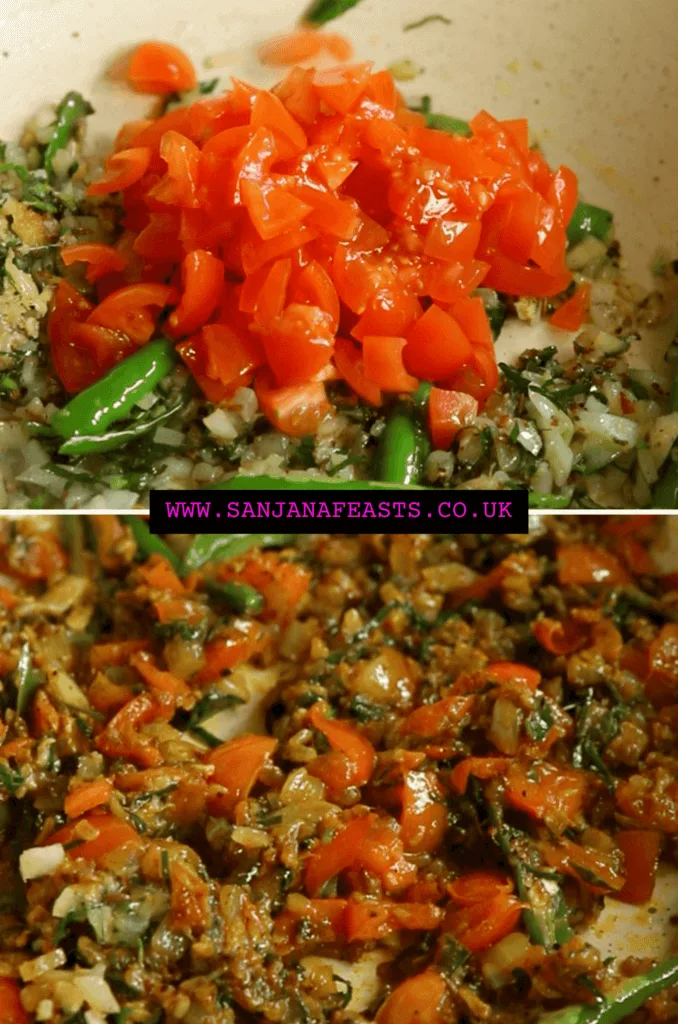 Cook the tomatoes until they soften. Mash with the back of a spoon to create a rough paste. The mixture doesn't need to be smooth.
Add dry spices at this stage and keep the heat low as dry spices burn quickly. Add a splash of water if you notice the spices are burning.
When you notice the ghee or oil starting to separate from the tomato mixture, it's ready for the paneer.
5. Toss the paneer into the curry
Toss the paneer in the gravy and heat through. Since the masala was perfectly cooked, it will cling to each piece nicely.
How to make paneer curry with gravy
To adapt this recipe to a version with gravy, simply stir 125ml cooking cream through the curry at the end of the cooking process. Bring to a very gentle simmer and your paneer curry with gravy is ready.
If you don't want to use cream, add an extra tomato and some water.
Can you freeze paneer curry?
Most types of paneer curry freeze well. Whether it's a dry-style curry or paneer curry with gravy, it should freeze well.
To freeze paneer curry: When you freeze paneer curry, choose a freezer-safe airtight container and allow the curry to cool down completely first. Freeze for up to 3 months.
To defrost paneer curry: Defrost paneer curry at room temperature, or in the microwave.
How to reheat paneer curry: Reheat paneer curry in the microwave, or in a saucepan on the hob. Ensure the dish is piping hot before serving.
Note: Freezing paneer curry may change the texture of the paneer and/or gravy. It should however, still be delicious.
Paneer Curry recipe | How to cook Paneer Curry | Indian Paneer Masala
Yield: 2-4 servings
Paneer Curry
Try this easy Paneer Curry recipe with a delicious mix of aromatic Indian spices. Sauté the soft cubes of Indian cottage cheese in a golden onion and tomato masala. The flavours of cumin, black pepper, ginger and garam masala add warmth and excitement.
A kadai-fried curry like this (without too much sauce) is perfect to serve with naan, roti or paratha. I even like using it as a dosa filling when making Paneer Masala Dosa. If you prefer your Paneer Curry with a thick Indian gravy, try Paneer Makhani or Matar Paneer.
Ingredients
250g paneer
3 tbsp ghee or oil
1 tsp cumin seeds
1 tsp cracked black pepper
2-3 green chillies, slit
1 medium onion, finely chopped
1 large tomato, finely chopped
2 tsp minced ginger
3 large cloves garlic, minced
20 curry leaves, sliced into very thin strips
2 tbsp chopped coriander leaves, plus more for garnishing
1/2 tsp turmeric
3/4 tsp garam masala
1/4 tsp asafoetida
Salt, to taste
Instructions
Heat the ghee or oil in a large non-stick pan. Add the paneer and sauté on all sides until lightly golden brown. Be careful as it can splutter. Once golden, remove the paneer from the pan and place into a colander to while you prepare the rest of the curry.
Into the remaining ghee or oil, add the cumin seeds, black pepper, asafoetida, ginger, garlic, chillies, curry leaves, coriander and onions. Sauté for 4-5 minutes over a low heat, until the onions soft and begin to caramelise around the edges.
Add the tomato, turmeric, garam masala and salt. Cook for another 2-3 minutes, until the tomatoes soften. Mash them down with a spoon as they cook to create a thick paste. If you notice the mixture begins to burn, add a small splash of water. Mix until you start seeing ghee or oil separating at the sides of the pan.
Finally, return the fried paneer to the pan and mix to coat all the pieces in the masalas. Continue to cook and heat through for 1-2 minutes. Sprinkle with additional coriander (optional) and serve.
Notes
For a delicious Indian restaurant-style finish, add a very small pinch of kasoori methi (dried fenugreek leaves) and the same amount of sugar at the end of the cooking process.
Store leftovers in the fridge for up to 2 days.
To freeze: Allow the curry to cool completely and then transfer to a freezer-safe container. Freeze for up tp 3 months. Defrost in the microwave or at room temperature. Heat through thoroughly before eating. Food should always be piping hot.
If you don't enjoy paneer, you can also make this dish with halloumi, firm tofu, or even potatoes.
This recipe serves 2 people as a main course or 4 people as a side dish.
Nutrition Information:
Yield:

4
Serving Size:

1
Amount Per Serving:
Calories:

332
Total Fat:

28g
Saturated Fat:

14g
Trans Fat:

1g
Unsaturated Fat:

11g
Cholesterol:

68mg
Sodium:

620mg
Carbohydrates:

8g
Fiber:

1g
Sugar:

4g
Protein:

13g
More paneer recipes you might like
Brown Butter Paneer Makhani
I thought I knew love, but then I met Brown Butter Paneer Makhani. Combine aromatic spices with brown butter and a creamy cashew-tomato curry.
Check out this recipe
The Ultimate Saag Paneer
The Ultimate Saag Paneer recipe is pure MAGIC! Soft paneer chunks in a creamy mustard greens & spinach sauce. Every bite will melt in your mouth. A true Indian comfort food meal.
Check out this recipe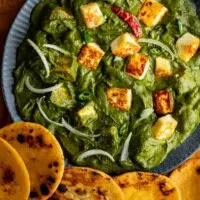 Restaurant-Style Shahi Paneer
Delicious, rich & creamy Shahi Paneer is a vegetarian food hero in North Indian cuisine. Scoop this curry up with flaky parathas or serve with basmati rice.
Check out this recipe
Easy, Creamy Palak Paneer
Palak Paneer is a stick-to-your-ribs North Indian treasure that was made to be a filling vegetarian option. Serve with laccha paratha, roti, naan or rice!
Check out this recipe
Creamy, Restaurant-Style Matar Paneer
Matar Paneer is a warmly spiced Indian curry made with paneer and green peas. The soft and creamy cubes of Indian cottage cheese pairs so well with simple fresh garden peas.
Check out this recipe
With love and Paneer Curry,
Sanjana