If you're looking for an Indian Shrikhand recipe that turns out perfect every time, you're in the right place.
Shrikhand is one of the most simple Indian desserts, popular during festivals and special occasions.
You'll often find it on a thali, a traditional feasting platter brimming with both savoury and sweet dishes.
This Shrikhand is…
Easy to make
Gluten free
A great make-ahead dessert
Made the traditional way using strained yoghurt
What is Shrikhand?
Shrikhand is a dish of very thick hung yoghurt whipped with sugar, cardamom and saffron.
In order for the yoghurt to be thick enough, it's wrapped tightly inside a cloth so the whey drips away.
This process leaves behind the creamiest yoghurt. It's perfect for making Shrikhand.
What does Indian Shrikhand taste like?
If you've never tasted Shrikhand, think of it as a sweet labneh or unfrozen frozen yoghurt.
The yoghurt is the perfect balance of sweet and tangy.
Spices like cardamom and saffron give the Shrikhand a quintessential Indian 'mithai' (sweet) flavour.
A bowl of cold Shrikhand is a flashback to my childhood.
I have the most wonderful memories of tasting my mum's version around the festival of Diwali every year.
I make this recipe for Shrikhand often and it tastes like a celebration every time.
How to serve Shrikhand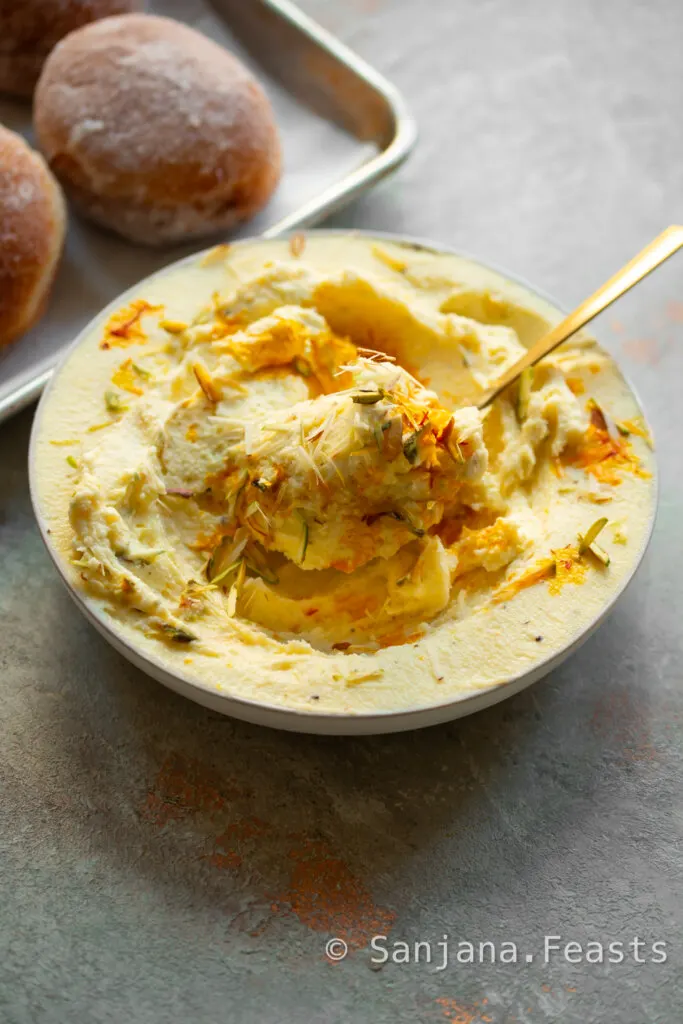 Perhaps the most traditional way to serve Shrikhand is as part of a thali, with poori, a puffy, crispy fried bread.
There's no doubt that Shrikhand tastes amazing after a few hours in the fridge.
You could even fold some fresh fruit through the Shrikhand.
Fresh mango or juicy frozen or fresh berries would be delicious.
Eat Shrikhand with Mung Bean Curry, Kadhi and Rotli for real Gujarati celebration vibes.
Shrikhand also tastes amazing with Poori. You can leave out the spices if you like.
If you want to create a spectacular show piece of a dessert, make my Shrikhand Doughnuts.
Pillowy, yeasted doughnuts filled with the most wonderful creamy yoghurt.
I toss the warm doughnuts in cardamom and pistachio sugar before I serve.
I promise you'll be hooked after a single bite.
My family's traditional Shrikhand recipe
I learnt to make Shrikhand by watching my mother prepare it for dinner parties.
My parents would host them often and I loved getting involved! In fact, this is how I learnt most of my cooking skills.
My mother taught me her Shrikhand recipe when I was 11 years old and I make it in the same way to this day.
She would wrangle the yoghurt into a muslin cloth two days before she was due to make Shrikhand for a dinner party.
It was then tied onto a 30-year old ladder with a bowl placed underneath to catch the whey as it dripped out of the pendulous bundle.
I'd watch the yoghurt over the next few days, as it slowly turned into a great big solid blob inside the muslin cloth.
I make it the same way today.
Ingredients for this Shrikhand recipe (detailed measurements in recipe card below)
Plain natural set yoghurt – choose the most sour yoghurt you can find. Try the 'desi' style dahi from shops, such as Pakeeza. Greek yoghurt is okay, but generally not sour enough to achieve a traditional flavour. Labneh is a good substitute.
Icing sugar (powdered/confectioner's sugar) – powdered sugar will dissolve into the yoghurt easily in comparison to granulated sugar
Green cardamom – crack the pods, take the seeds out and grind them to a fine powder
Saffron – try to use the best quality saffron within your means. Greek, Spanish, Iranian and Kashmiri saffron are all great.
Whole milk – scald the milk and soak the saffron in it for 10-15 minutes to extract the most flavour and colour
Nuts (optional) – pistachios and almonds are optional, to garnish
Step-by-step Shrikhand Recipe
1. Tie the yoghurt to make strained yoghurt (hung yoghurt)
Place a clean muslin cloth (cheesecloth) into a bowl or strainer.
Add the yoghurt and tie a very tight knot at the top of where the yoghurt sits to encourage all the water to squeeze out.
Hang the muslin somewhere cool with a large bowl underneath to collect all the whey that drips out.
Leave this for 24-36 hours. The longer you leave it, the thicker it will be.
Save the whey for another recipe. It's amazing in Kadhi.
2. Add the sugar to the strained yoghurt
Transfer the strained yoghurt to a large bowl and beat in the icing sugar.
Soak the saffron in hot milk.
Pass the mixture through a sieve, pushing it through with the back of a large spoon or with a silicone spatula.
The shrikhand will be quite smooth at this stage. Do not do this in a food processor or the yoghurt will turn watery.
3. Flavour the shrikhand
Add cardamom and saffron milk. Fold everything together with a large spoon. Try not to whip or beat the shrikhand.
Add some pistachios and/or almonds for decoration.
4. Chill the shrikhand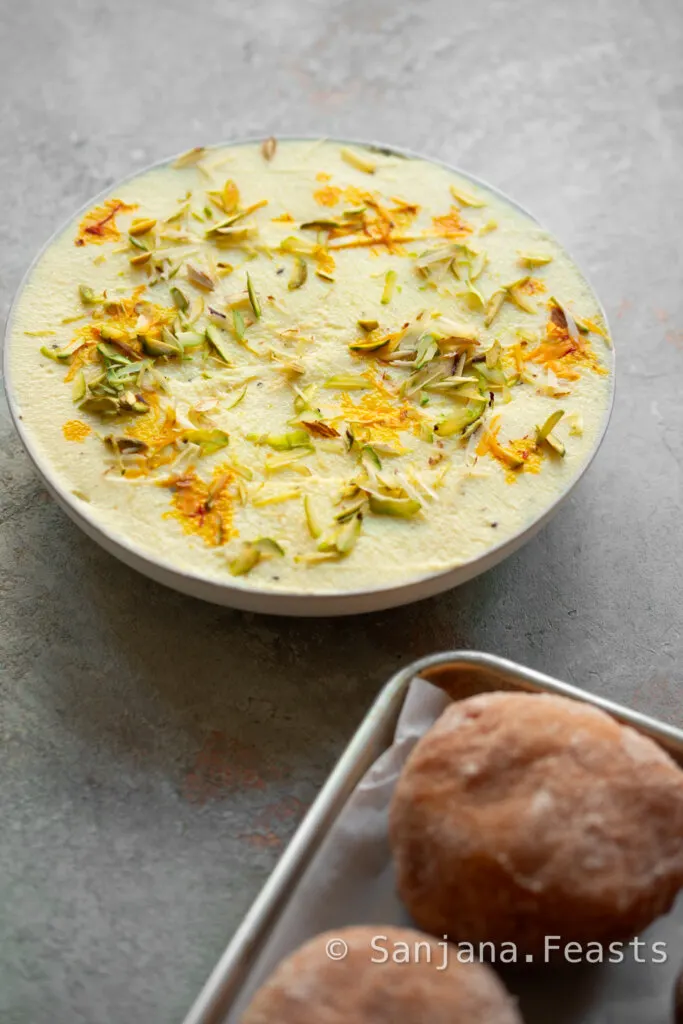 Refrigerate the shrikhand for 6-8 hours, or overnight for the best flavour.
Make sure it's in an airtight container or wrapped very well in cling film so that it doesn't absorb any other food smells.
Shrikhand Recipe | How to Make Shrikhand | Traditional Indian dessert with strained yogurt
Yield: 8 servings
Shrikhand Recipe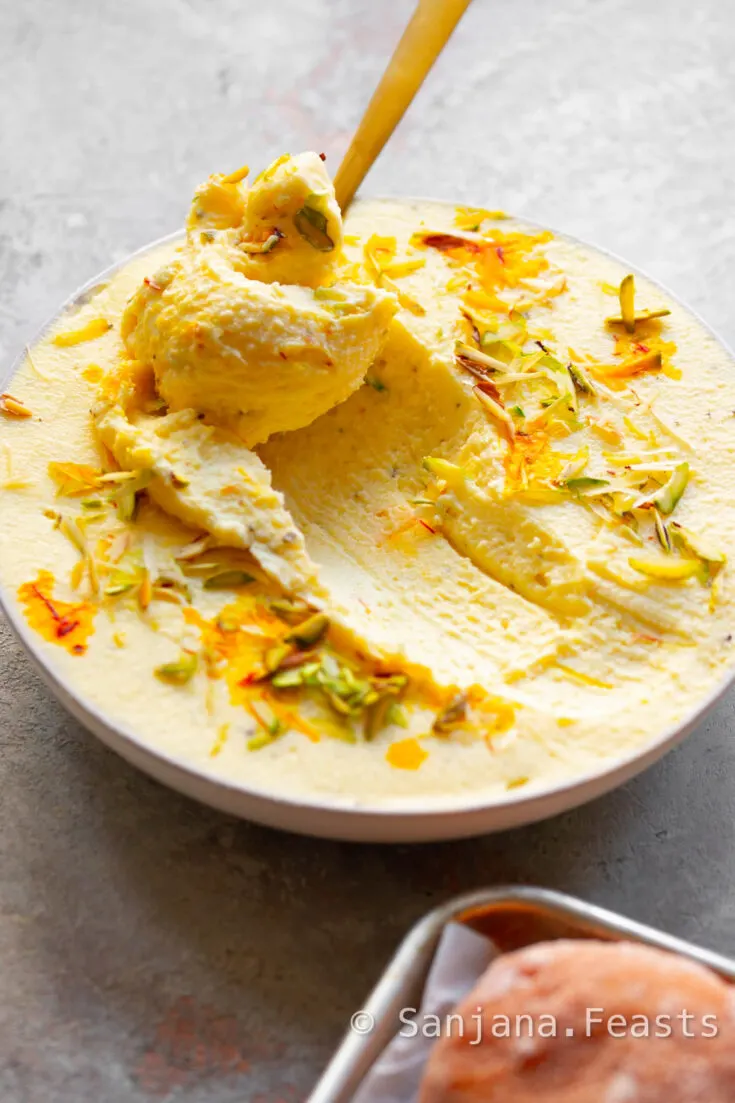 Creamy Shrikhand is one of the most simple Indian desserts. Shrikhand is made from thick, hung yoghurt whipped with sugar, cardamom and saffron. Serve it fridge cold by itself, or as part of a larger meal. Shrikhand is amazing with poori, a type of unleavened fried Indian bread.
Prep Time:
1 day
30 minutes
Total Time:
1 day
30 minutes
Ingredients
1 kg plain natural yoghurt (the more sour it is, the better)
200 g icing sugar (powdered sugar)
1 tsp ground green cardamom seeds (about 8 pods)
Large pinch of saffron
2 tbsp warm milk
2-3 tbsp sliced pistachios and almonds, optional
Instructions
Tip the yoghurt into a clean muslin cloth and tie it up tightly with a piece of string right above the top of the yoghurt so that the water presses away.
Tie the muslin somewhere cool, where it can hang with a large bowl underneath to catch the water and leave it for 24-36 hours. I like to hang mine in a cool corner of the kitchen. Keep tipping away the water as the bowl fills up.
Remove the yoghurt from the muslin and place it in a large bowl. Add the icing sugar and mix well.
Press the yoghurt and sugar mixture through a fine-holed sieve to remove any lumps.
Mix in the ground cardamom and saffron milk. Garnish with pistachios and almonds.
Chill the shrikhand (covered) in the fridge for at least 8 hours before serving.
Notes
This Shrikhand keeps well in the fridge for up to a week after it's made. Keep it in an airtight container.
Shrikhand will also keep well in the freezer for up to 3 months. Defrost at room temperature.
Nutrition Information:
Yield:

8
Serving Size:

1 grams
Amount Per Serving:
Calories:

212
Total Fat:

5g
Saturated Fat:

2g
Trans Fat:

0g
Unsaturated Fat:

3g
Cholesterol:

8mg
Sodium:

115mg
Carbohydrates:

36g
Fiber:

1g
Sugar:

34g
Protein:

8g
Pin this Shrikhand recipe for later!
If you like this, you'll love my recipe for Shrikhand Doughnuts
11 Burfi Recipes to Satisfy Your Sweet Tooth
Learn how to make the traditional South Asian milk fudge, burfi with these easy and creative recipes.
With love and Shrikhand,
Sanjana