Mung Bean Curry is wholesome Indian vegetarian dish to enjoy with roti. It's thick, creamy and cooked with an aromatic paste of ginger, green chilli and coriander.
Shards of crispy, ghee-fried garlic add bold flavour and texture right at the end when we prepare the tadka.
Serve this Mung Bean Curry as a main meal, or as a side dish for your favourite Indian recipes. It's particularly delicious with Kadhi and rice.
It's not a daal, it's a curry. To turn it into a daal, simply add more water.
24 hour mung bean people
Growing up, my mum would cook mung beans every week. She taught my dad and now he makes it every week to give her a break from cooking.
Back then I wasn't the biggest mung bean hype girl. However, I have learnt to cook them in a way I adore.
The flavours of my version combine the simplicity of the mung bean curry I grew up eating… but with enough garlic to send Count Dracula directly to hell.
What is the cultural significance of mung beans?
Not only are mung beans super nutritious, they're also inexpensive and even said to bring luck!
In Hindu culture, mung beans have ties to auspicious occasions such a New Year's Day, and are also used in ceremonies and rituals. Marriages, births, deaths.
Whether or not you believe in the ceremonious properties of mung beans, I hope you find this recipe for thick and creamy Mung Bean Curry to be delicious.
What are mung beans?
If you're looking for a healthy and plant-based protein (and an ample amount of carbs), look no further than mung beans. These small green legumes are packed with essential vitamins, minerals, and nutrients.
Mung beans are also inexpensive and versatile, making them great for anyone trying to eat healthily on a budget.
The mung bean is widely cultivated in East, Southeast, and South Asia and is frequently used as an ingredient in both sweet and savoury dishes.
Mung beans in Indian cuisine
When it comes to Indian cuisine, both whole and hulled mung beans are popular choices from dosas to daals.
In regions such as Karnataka, Maharashtra, Gujarat, Kerala, and Tamil Nadu, whole mung beans are boiled to make both dry preparations like this Mung Bean Curry, as well as stew-like dishes and daal.
In Andhra Pradesh, a batter made from ground whole mung beans is used to create Pesarattu, a popular dosa variety which is a light green colour.
Last but not least, we can't forget dessert! Sweet halwa is also an incredible dish you can make with mung beans (mung dal halwa).
Where to buy mung beans
Most supermarkets stock mung beans in the dried bean and lentil section. You can also order them online, or from specialist Asian supermarkets.
This blog post contains Amazon Affiliate links. They are all products I have purchased of my own accord and ones that I use myself. None of the products mentioned in this video and description have been gifted to me. By using an affiliate link, I receive a small commission at no expense to you. This commission helps to support this channel. Thanks in advance if you choose to make a purchase through these links!
How long does it take to make Mung Bean Curry?
30 minute soak time
15 minute prep time
40 minute cook time
Total time: 1 hour, 25 minutes
Do you need to soak mung beans?
I recommend soaking mung beans, and any dried beans or lentils. Soaking them not only cuts down the cooking time but it also makes the beans more digestible.
The combination of hot water and baking soda creates the perfect soaking conditions. It encourage the beans to soften quickly and cook quickly later.
Alkaline conditions have been found to be more effective than acidic conditions in preparing beans for consumption.
This is because alkalinity helps to break down the complex carbohydrates present in beans, making them more digestible and nutritious.
When beans are cooked in acidic water, such as tap water, the acidic environment slows down the cooking process and makes it difficult to soften the bean's exterior.
Also, acidic water prevents the beans from fully absorbing seasonings and flavours, resulting in a sub-standard taste.
Why add baking soda when cooking lentils and beans?
Dried beans and lentils tend to cook better in alkaline water. Since this is a one-pot affair, and we are adding acidic tomatoes, a pinch of baking soda (bicarbonate of soda) will help to cook the beans quickly.
Can I make this with any other lentils?
If you can't get your paws on mung beans, fear not. This recipe works well with green lentils (masoor) and moth beans, too.
Ingredients for Mung Bean Curry
The ingredients you'll need for making Mung Bean Curry are as follows. It's a forgiving recipe, so don't worry if you need to make a few minor substitutions.
Mung beans – the star of the show. Buy whole, green mung beans (sometimes called moong or green gram)
Garlic – This recipe calls for eight large cloves of garlic. Don't be shy. Garlic and mung beans are a fantastic flavour pairing. Half go into the green chilli paste at the beginning of the recipe. Reserve the other half for the tadka, for which they will need to be finely sliced into large, wafer-thin slivers.
Ghee or oil – I choose the former, since I adore the velvet texture of butter with beans
Tomato – a small amount of fresh tomato adds a bump of fresh acidity to the mung bean curry. Substitute with 75g tinned tomato or 2 teaspoons of tomato paste if you don't have fresh.
Ginger – peel and cut the ginger into large chunks. We will pound it into the green chilli paste.
Indian green chillies – I use a variety of Indian green chilli called Jwala. They're sometimes called finger chillies. These are little less spicy than Thai bird's eye chillies. Use as few, or as many as you like.
Fresh coriander – Divide the leaves and stems in this recipe. We will pound the stalks into a paste. Use the leaves to garnish the dish at the end.
Store cupboard spices – turmeric, ground cinnamon, cumin seeds, kasoori methi (dried fenugeek leaves), asafoetida (hing).
Steps for making mung bean curry
1. Wash and soak the mung beans
An essential step with preparing any type of lentils, beans or pulses is to wash them throughly and soak them. Washing removes surface dirt and soaking softens them and makes them more digestible.
Choose a hot soak for 30 minutes, along with a pinch of baking soda is ample. the longer the beans soak, the shorter the cook time on the stove.
2. Pound the aromatics
The basis of this Mung Bean Curry is a hot and aromatic green chilli paste. I like to pound Indian green chillies, garlic, ginger and juicy coriander stems in a pestle and mortar to bruise into a coarse pulp.
You can use a blender or grinder but my inner Indian grandma tells me it tastes much better when you bash it by hand.
3. Cook the mung beans
Cook the paste in ghee, along with tomatoes, mung beans and water. Cover with a lid and simmer for 40 minutes until the mung beans are very tender. Stir often because nobody likes it when it sticks.
4. Whisk the mung bean curry
There's a reason why I have a balloon whisk tattooed to my left arm. It's my secret weapon. Whisk the beans into a creamy oblivion for the most luxuriously velvety finish.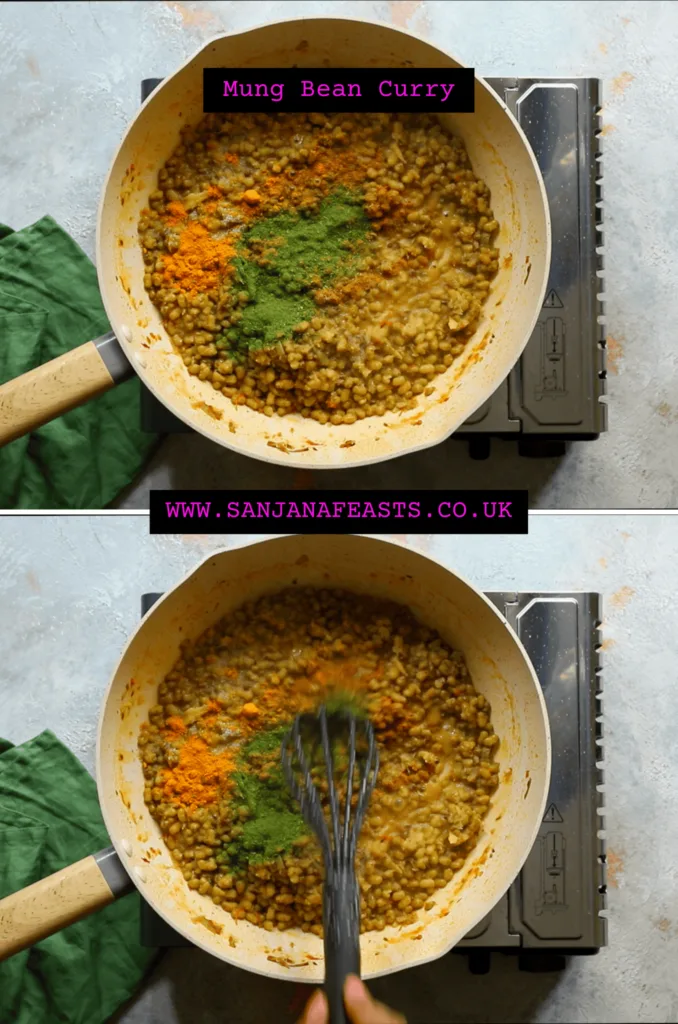 Don't forget to add the dried ground spices at this stage, too. You'll need turmeric, ground cinnamon (very important), kasoori methi and salt.
5. Prepare the tadka
Finally, sizzle the cumin seeds and wafer-thin slices of garlic in hot ghee. Go slow and stir all the time. Don't over brown the garlic. Now hurry! Pour the whole thing over the cooked mung bean curry. Garnish with fresh coriander, chopped red chillies (optional) and serve.
How to serve Mung Bean Curry
You'll need some scooping options for this ultra-creamy curry. Rotli, naan, paratha, or even toasted bread rolls are delicious options.
If you make the curry with extra water to create more of a daal texture, serve with rice.
Roti Recipe – Homemade Indian Chapati
How to make soft and round roti. Indian chapati or roti recipe with step-by-step photos. These rotis are delicious with curry and daal.
Check out this recipe
Soft Spinach Roti
Can you believe the dough for these Soft Spinach Chapatis is enriched with a whole bag of spinach? Popeye would be proud! Pack a healthy portion of leafy greens into your meal with this easy recipe the whole family will love.
Check out this recipe
Mung Bean Curry recipe | How to make Mung Bean Curry | Green Moong recipe
Yield: Serves 4
Mung Bean Curry
Mung Bean Curry is wholesome Indian vegetarian dish to enjoy with roti. It's thick, creamy and cooked with an aromatic paste of ginger, green chilli and coriander. Shards of crispy, ghee-fried garlic add bold flavour and texture. Serve it as a main meal, or as a side dish for your favourite Indian recipes. It's particularly delicious with Kadhi and rice.
Additional Time:
30 minutes
Total Time:
1 hour
25 minutes
Ingredients
275g whole mung beans (moong/green gram)
6 small, hot green chillies (or as many as you like), cut into rough pieces
2 tbsp chopped coriander stalks
4 cloves garlic
2cm piece ginger, peeled and cut into rough chunks
1 tbsp ghee or oil
1/2 tsp cumin seeds
1/4 tsp asafoetida
1 large tomato, finely chopped
1/2 tsp turmeric
1/2 tsp ground cinnamon
1/2 tsp kasoori methi (dried fenugreek leaves)
1 tsp salt
1/8 tsp baking soda
1.1 L hot water
For the garlic tadka
3 tbsp ghee or oil
1 tsp cumin seeds
4 cloves garlic, very thinly sliced
To garnish
1 tbsp fresh coriander leaves
1 red chilli, chopped (optional)
Instructions
Place the mung beans in a bowl and cover with warm water. Wash the beans well, rubbing them to remove any surface dirt. Change the water 2-3 times to repeat the washing process. Drain and add the baking soda. Fill the bowl with boiling hot water, enough to submerge the beans by 2-3 centimetres. Allow to soak for 30 minutes.
In a pestle and mortar, bash together the green chillies, garlic, ginger and coriander stalks. It should be a coarse puree. No need to get it too fine. You can also use an electric chopper or blender if you prefer.
Heat the ghee or oil in a large pan. Once it's hot, add the cumin seeds, asafoetida and green chilli paste. Cook the paste out over a medium heat for 90 seconds, making sure it doesn't burn. Then, add the tomatoes and continue to cook for 2-3 minutes.
Drain the mung beans and add them to the pan. Top up the pan with boiling hot water and bring to the boil. Cover the pan with a tight-fitting lid and allow to simmer over a medium heat, stirring often. As the beans cook, the mixture will thicken and settle at the bottom so ensure you stir more frequently as it gets to this stage. You can turn the heat down if you find it's sticking to the base of the pan too much. The mung beans will take around 30 minutes to soften. If the water is absorbing too much, top it up with more hot water.
Once the beans are soft (press one between your thumb and forefinger - it should mush easily), add the turmeric, cinnamon, kasoori methi and salt. Beat the mung beans with a balloon whisk to transform it to a creamy consistency. Adjust the consistency with more water it it's too thick, or cook a while longer if it's too watery. Remember that the curry will thicken the longer it stands. Keep over a low heat while you prepare the tadka.
To prepare the garlic tadka: In a small pan, heat the ghee until smoking hot. Add cumin seeds and sliced garlic. Cook over a medium-low heat until the garlic turns a very light golden brown at the edges (don't overcook the garlic as it will continue to brown even after it comes off the heat and can turn bitter). Stir the garlic all the time as it cooks. Add the coriander leaves and briefly mix. Immediately pour the garlic tadka over the mung bean curry. Mix well and taste to check the seasoning. Garnish with more coriander and serve.
Notes
To pressure cook the mung bean curry
Alternatively, reduce the amount of water in this recipe to 700ml and cook the mung beans in a pressure cooker for 4 whistles.
If using an Instant Pot or similar, cook the mung beans for 15 minutes on the HIGH setting.
Nutrition Information:
Yield:

4
Serving Size:

1
Amount Per Serving:
Calories:

274
Total Fat:

20g
Saturated Fat:

9g
Trans Fat:

0g
Unsaturated Fat:

11g
Cholesterol:

33mg
Sodium:

639mg
Carbohydrates:

19g
Fiber:

6g
Sugar:

3g
Protein:

6g
Nutrition information isn't always accurate.
If you like this, you'll love my recipe for Shahi Daal
Love Sanjana