I'm a veggie burger snob. There, I said it.
Nothing compares to a veggie burger packed with a delicious combo of spices, herbs and quality extras.
I have a few dozen personal burger laws. For me, there must be pickles, if not, the burger is incomplete. The sauce has to be relish, mustard or something else loaded with flavour. Salsa is fine. No mayo, although sour cream with chives is epic. Cheese is mandatory. Extra cheese is better. Lettuce or baby spinach offer a welcome crunch factor and thinly-sliced onions make the whole thing a dream come true.
Another thing I'm absolutely nuts about is a crunchy crust on the outside of the burger patty. Breadcrumbs, crushed nachos, herby semolina, I'll take anything. But I've got something better for you today, my loves; something so stupidly delicious you'll wonder where it's been all your life.
Three words; cassava crisp crust. Did you just feel my heart skip a beat?
Cassava crisps are a staple snack in our house and the fresh kind cannot be beaten. Paper-thin slices of cassava deep fried until crisp, doused with fresh lemon juice, salt and chilli powder transports me back to Mombasa where roadside hawkers sell them by the bag full. They stand over vats of hot oil lit over gas stoves all day, chipping the cassava directly into the oil from above. There's something so beautiful about watching their skilled hands carry out their craft while the smell of butane, fried starch and sea water lingers in the air. For me, a road trip isn't the same without a bag of crunchy cassava crisps and a frosty bottle of Stoney Tangawezi (ginger beer).
Rarely do we make fresh cassava crisps at home, they're a once in a while treat. These days you can buy them from most big supermarkets. For this recipe, the shop-bought kind are an ideal time-saver.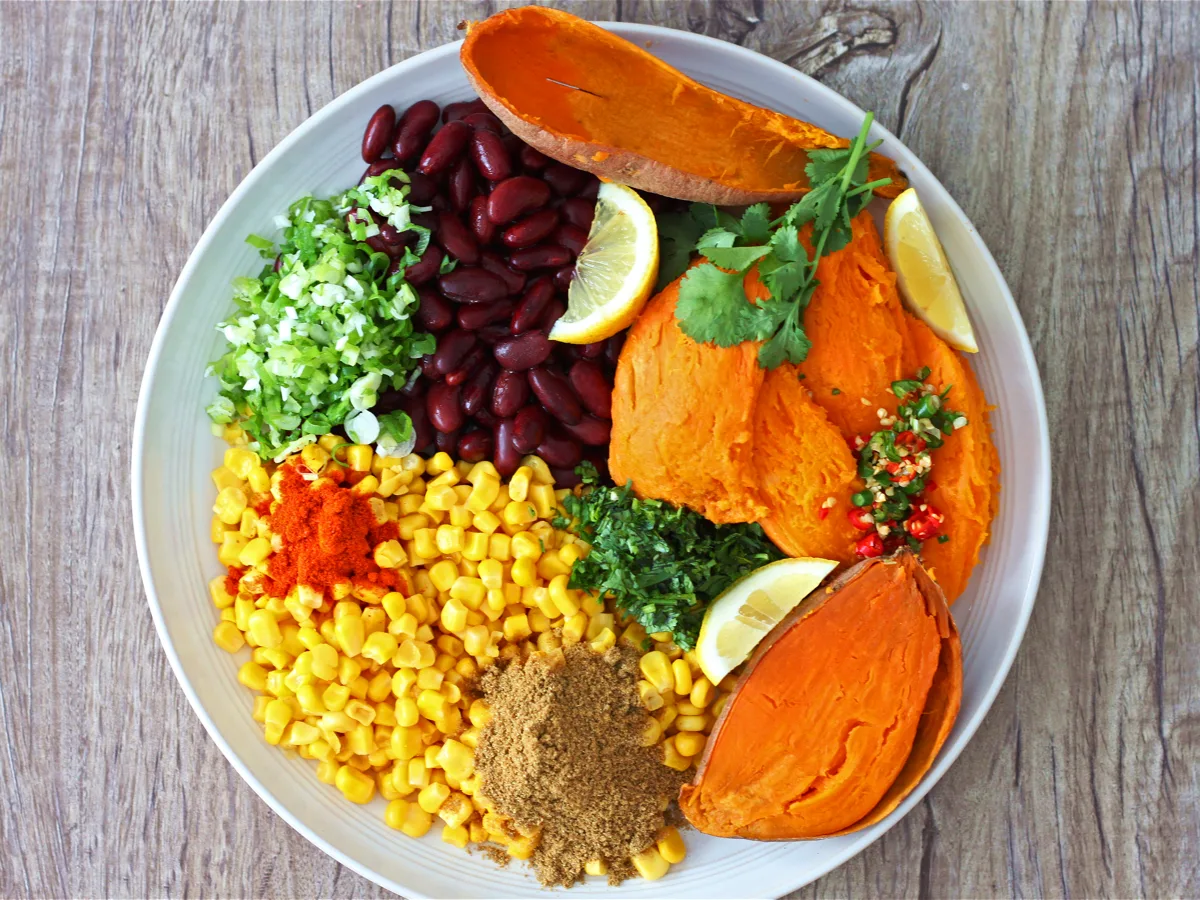 Mshenye is a very traditional side in East Africa. A carbohydrate, protein and starch-rich combination people rely on. It consists of mashed sweet potatoes, kidney beans and maize. Very few spices are added because it's usually served with rich, flavoursome stews. I've taken the delightful combo of classic Mshenye ingredients and added fresh and flavoursome herbs and spices for a knockout take on the traditional dish. The Mshenye is shaped into burgers and coated in crushed chilli and lemon cassava crisps. They're then baked in the oven until they're golden on the outside and still soft on the inside. Pure veggie burger perfection.
My Dad's Masala Chips are famous in our family; Our midnight feast of choice. He throws them together at lightning speed, making it difficult to get a glimpse into what he actually puts in the sauce. When I first asked him for his recipe he sent me a list of about 10 different ingredients, all jumbled up with no measurements. This is what I like to call a 'dad recipe'. It's also probably why his masala chips are so goddamn delicious. Well, this is a monumental moment, guys. He made it while mum recorded the recipe – dream team!
We finally have a real recipe with his measurements so you can get your masala chips fix at home.
Enjoy them with these ultimate veggie burgers.
Kenyan Sweet Potato Veggie Burgers and My Pa's Masala Chips
Makes 6 big burgers or 8 smaller ones and enough chips to feed 6
Ingredients
For the burger patties:
1kg whole sweet potatoes, skin on and baked until soft
250g kidney beans, cooked
250g sweetcorn
2 spring onions, chopped finely
2 chillies, chopped finely
1 tsp paprika
2 tsp ground cumin
1 tsp ground cinnamon
Juice ½ lemon
1 vegetable stock cube, crumbled
3 tsp salt
3 tbsp instant mashed potato powder
Chopped coriander
100g crushed cassava crisps or potato crisps
To assemble the burgers:
6 burger buns, sliced in half
Salad greens
Sliced pickles
Red onion, thinly sliced
Mozzarella or Cheddar cheese slices (or both)
Sour cream with chives
Sliced tomatoes
For my Dad's Masala Chips:
1.2kg waxy potatoes, such as King Edward
2L sunflower oil, for deep frying
400g passata
1 tbsp tamarind paste
1 tsp asafoetida
1 clove garlic, crushed
1 tsp chilli powder
2 tsp ground cumin
1 tsp ground coriander
1 tsp ground black pepper
3 tsp sugar
1 tsp salt
Chopped coriander, to garnish
Method
1. Slice the sweet potatoes in half and scoop out the flesh. Place all the ingredients for the burger patties (except the cassava crisps) in a large saucepan and use a potato masher to mash them together. Cook on a low heat, mixing often until it comes together and starts to hold its' shape. Set aside to cool.
2. Cut the potatoes for the chips into fry-sized pieces. Place them into a pan of cold water and refrigerate.
3. To make the sauce for the masala chips, heat a teaspoon of oil in a pan. Add the crushed garlic and asafoetida. Sauté for a moment and then add the rest of the ingredients. Simmer on a low heat for 30 minutes until reduced by half. Set aside to cool.
4. Pre-heat the oven to 200C.
5. The burger patty mixture is cool enough to handle, divide it into six large burgers or 8 smaller ones. Use your hands to shape them into patties before rolling into the crushed cassava chips. Place the burgers on a flat baking tray. Bake in the oven for 30 minutes, placing cheese slices over the top at the 25 minute mark, and returning to the oven to melt. You could also cook them on the barbecue.
6. In a deep pan, heat the sunflower oil to 180C. Deep fry the chips until golden all over. Drain on a plate lined with kitchen paper. Place the chips in a bowl and add the masala chip sauce. Toss gently, taking care not to break them. Transfer to a serving bowl and garnish with chopped coriander.
7. Toast the burger buns on a griddle.
8. Load up the burgers with sour cream, the cheese-topped Kenyan-style burger patties, salad leaves, sliced onions, tomatoes, pickles and whatever else your heart desires. Serve with masala chips.
Love Sanjana