The most Perfect Handvo (Gujarati Lentil Cake) recipe. Gujarati Handvo is a golden, fermented rice and lentil cake with vegetables. Some Gujaratis call this delicious tea-time snack Ondhwo.
This recipe for Handvo is one I make from scratch, using whole, soaked lentils and rice. No packet mix or handvo flour necessary.
What is Handvo? The famous Gujarati snack
Some might say that Handvo is the more complex cousin of Dhokla. A cacophony of various textures and flavours from ground lentils, rice, spices, vegetables, seeds and nuts. On top of this, there's a sour dimension courtesy of the fermentation the Handvo batter undergoes. Not only does all of this add multiple layers of interest to the dish, it also makes it lighter on the tummy (in comparison to other Indian snacks).
In my Gujarati home, we will eat Handvo any time of the day. Breakfast, lunch, snack, dinner… midnight feast!
Where does Handvo come from?
This savoury preparation comes from Gujarati in western India. Eat it as a tea-time snack or include it as part of a thali. I love it for breakfast!
Why does it have so many different names?
We actually call this dish Ondhwo, since my family have roots in East Africa (Ondhwo or Ondhwa is the name many Gujaratis with ties to East Africa use for Handvo). Although each home will have their own method of preparation, aside from the name, there is no clear cut difference between Handvo and Ondhwo.
What are the different ways to make Handvo?
There are so many different ways to make this dish. Each home will have their own unique method of preparation and there are no right or wrong ways of doing things. Here are some of the most common variations:
Handvo with Handvo flour
Handvo with whole lentils and rice
Oven-baked Handvo
Tawa Handvo (or in a frying pan)
Handvo with vegetables
Plain Handvo without vegetables
Handvo with Idli batter
Instant Handvo (no-ferment method using Eno or other leavening agents)
My take on the dish – Perfect Handvo (Gujarati Lentil Cake)
Some people prefer to use shop-bought Handvo flour, which is quicker than soaking whole lentils and rice. I would like to share with you my Handvo recipe without Handvo flour or packet mix because I'm aware it is not always possible to source depending on your location.
For the Handvo batter, you will need a combination of Basmati rice, chana daal and toor daal.
How to make vegan Handvo
Simple substitute the yoghurt for a dairy free alternative such as coconut yoghurt or soy yoghurt.
The dark and flavoursome Handvo crust
I am infatuated with a dark, treacle brown crust atop my Handvo. It is the equivalent of a corner piece of brownie or lasagne! Those crispy edges carry so much flavour and texture. In my recipe, I do a double tempering and double bake. For the final tempering, the sesame, mustard and curry leaf oil bakes into the Handvo for the final 10 minutes, leaving behind the most delicious caramelised crust.
If you prefer, you can do one tempering and carefully pour it over the batter before it goes into the oven. I'll leave that choice to you.
What vegetables can I add to my Handvo?
This is such a fantastic raid-the-fridge recipe. You can use practically any vegetables you have to hand. Be sure to cut everything to similar sizes so they cook evenly. Squeeze the water from watery vegetables like Dudhi (bottlegourd), courgettes or carrots.
To this recipe I add potatoes, carrots, courgette, onion, peas and sweetcorn.
You could also add any of the following (the total weight of veg should be 400g-450g): French beans, broad beans, cabbage, cauliflower, asparagus, leek, swede, turnip, sweet potato, Methi (fenugreek leaves), green garlic.
Peanuts are also a common addition to Handvo, but again like all the other vegetables, are optional.
More Indian snack recipes you might like
How to make Handvo without an oven (tawa/frying pan method)
Handvo needs to be cooked low and slow. If you'd like to make it in a frying pan, you'll need to do it in two batches, since the mixture must be spread thinly. Temper the ingredients (for tempering two) in a large frying pan and pour HALF of the mixture directly into the frying pan. Cook covered over a low heat for 20 minutes per side. Repeat for the second half of the Handvo batter.
How to make Handvo without a packet mix
This all begins with a blend of lentils washed, soaked and ground. The process is similar to making traditional Dhokla or Dosa batter. The mix then needs to ferment. Add the veggies, spices and bake until golden. A final tempering finishes the handvo off beautifully.
Subscribe to my YouTube Channel!
How to make Handvo (Ondhwo): Step-by-step instructions
Jump to Recipe
1. Soak the rice and lentils
3 hours soaking time. Both the rice and lentils should break when pressed between your fingers. Drain it well.
2. Grind the soaked rice and lentils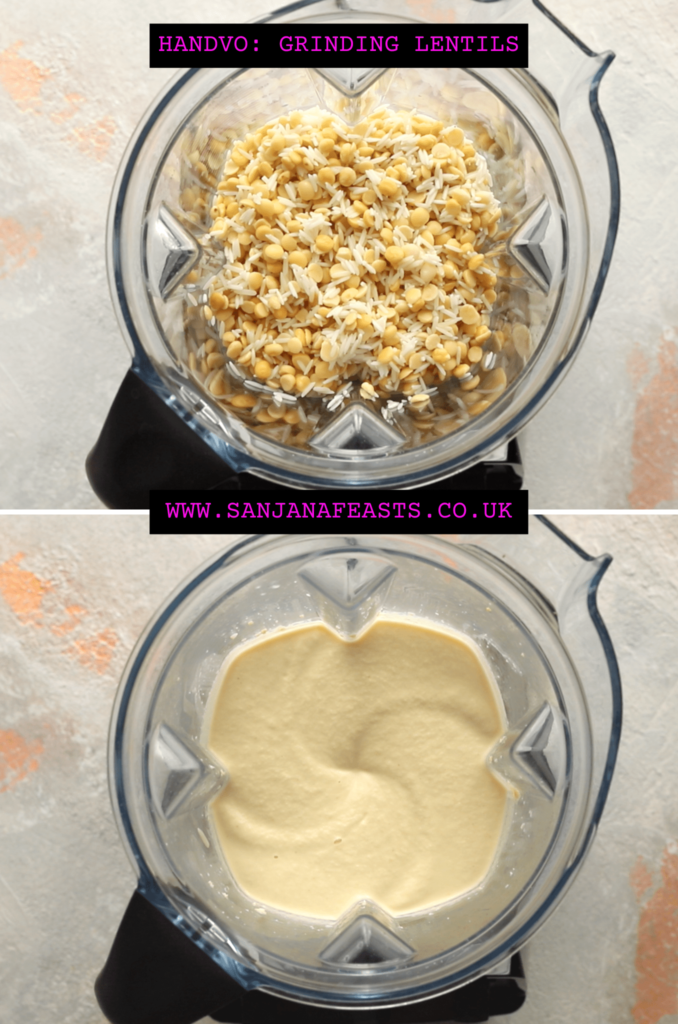 Use a blender with high power. The mixture should be smooth, creamy and white in colour. You may need to add around 100ml additional water but do not use more than this amount.
3. Add additional ingredients and ferment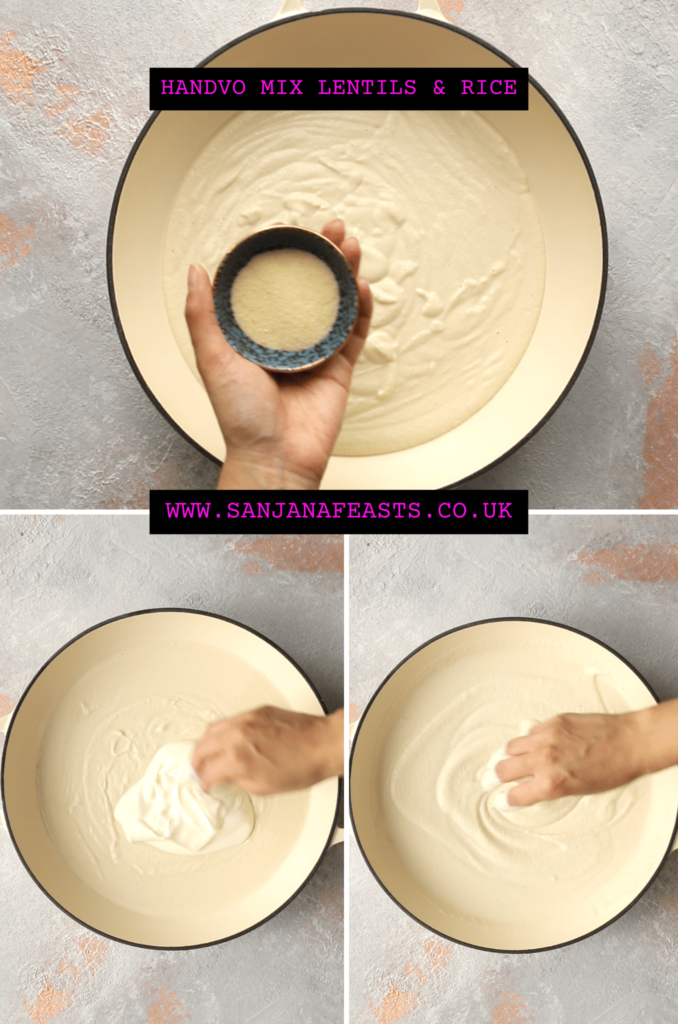 Add yoghurt, semolina and fenugreek seeds. Use your hands; the warmth from them will help speed up fermentation. The fenugreek seeds will also help this! Cover and leave the batter in a warm place until it smells sour and begins to bubble slightly.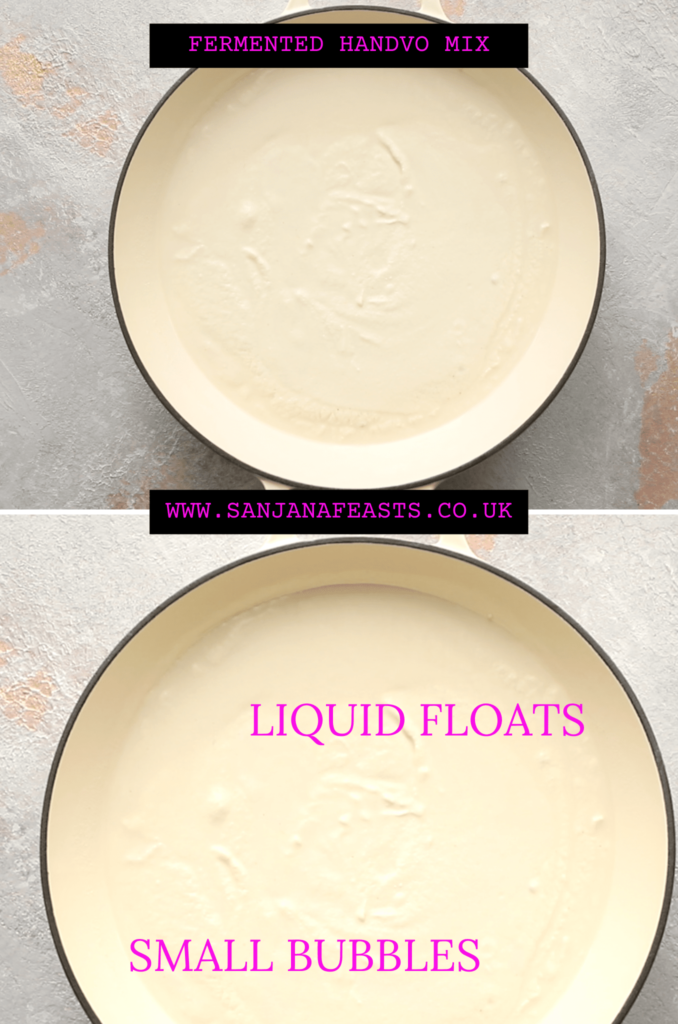 This can take anywhere between 12 and 24 hours depending on how warm it is. Do not add any salt as this will slow the fermentation down.
4. Mix vegetables into the fermented handvo mix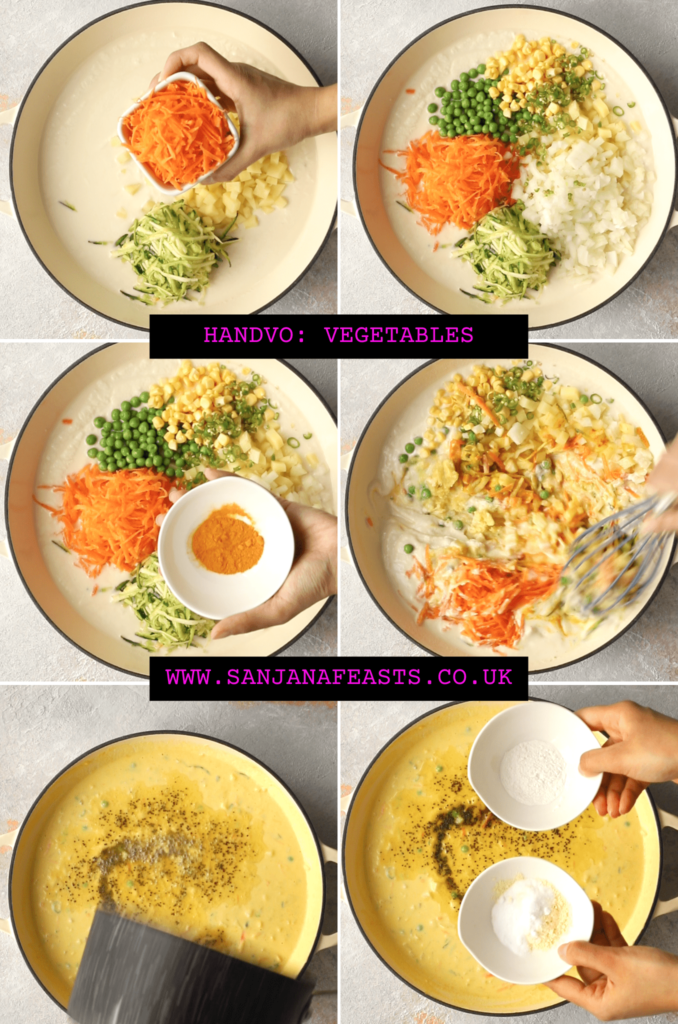 Squeeze water from grated vegetables like carrots, bottlegourds and courgettes, since these contain a lot of excess moisture and can change the texture of the Handvo.
5. Add the first tempering
This helps to keep the Handvo moist and adds extra flavour.
6. Activate the batter
Do this when you're ready to bake. Mix together the baking powder, bicarbonate of soda and chickpea flour. Whisk it in vigorously. It will double in volume and become light and airy. Immediately pour it into a greased baking tin. This step will make the Handvo much lighter and spongier.
7. Bake Handvo in the oven
Remember that Handvo must be cooked low and slow. 160°C/320°F for 90 minutes, or until a skewer inserted into the centre of the Handvo comes out clean. If you find the top is browning too much, cover the tin with a piece of foil.
8. Add the second tempering and bake again
Make the final sesame seed tempering and spoon it all over the baked Handvo (there's no need to cool it). Return to a hot oven for around 10 minutes or until the top turns a deep brown colour.
Perfect Handvo (Gujarati Lentil Cake) recipe
Equipment
20cm square tin or equivalent (at least 6cm deep)
Ingredients
For the batter:
200

g

basmati rice

100

g

chana daal

100

g

toor daal

700

ml

cold water

200

g

plain natural yoghurt

sour Asian-style

1

tbsp

coarse semolina

10

whole fenugreek seeds

methi

125

g

diced potatoes

60

g

grated carrots

60

g

grated courgette

or dudhi (bottlegourd)

125

g

finely chopped onions

30

g

peas

30

g

sweetcorn

25

g

whole peanuts

optional

1 1/2

tbsp

lemon juice

1

tbsp

ginger paste

1

tbsp

fresh green chilli paste

2

tsp

salt

3

tbsp

brown sugar

1

tsp

turmeric

2

cloves

garlic

optional
To activate the batter:
1

tsp

bicarbonate of soda

baking soda

1

tsp

baking powder

1

tbsp

chickpea flour

gram flour
Tempering 1:
3

tbsp

oil

1

tsp

mustard seeds

1/2

tsp

asafoetida
Tempering 2:
3

tbsp

oil

10-12

curry leaves

1

tsp

mustard seeds

1

tsp

sesame seeds

1/2

tsp

asafoetida
Instructions
To make the batter:
Place the rice and both daals in a large bowl. Wash in plenty of cold water, changing the water 2-3 times. Drain well. Cover with 700ml cold water and soak for three hours.

Once soaked, drain the rice and lentil mixture completely, reserving 100ml of the soaking water.

Grind the soaked lentils and rice in a blender until completely smooth. Refer to the video to see exactly what kind of texture you need. You may need to add around 100ml water to the batter to help it grind properly. NOTE: DO NOT ADD MORE THAN 100ml water. Keep stopping the blender to scrape down the sides as necessary.

Pour the batter into a large pan or bowl. Add the semolina, yoghurt and fenugreek seeds. Beat well using clean hands – the heat from them will help speed up fermentation. Cover with a tight-fitting lid and leave in a warm place to ferment. This could take anywhere from 12 hours, to 24 hours depending on how warm it is. If it's a really warm day, it may take less than 12 hours. You'll know the mixture has fermented by the smell. Once it starts smelling a little sour, develops a layer of water on top, and bubbles appear at the sides, it's ready.
To prepare the fermented batter for baking:
Pre-heat the oven to 160°C/320°F. Grease a 20cm square tin with 2 tbsp any flavourless oil.

Squeeze all the water out of both the carrots and courgettes (or dudhi).

To the fermented batter, add diced potatoes, courgettes, carrots, peas, sweetcorn, onions, chilli, turmeric, ginger, salt, sugar and lemon juice. You may also add peanuts at this stage (if using). Mix everything well and set aside while you make the first tempering.
For the first tempering:
Heat the oil in a small pan. Add mustard seeds and allow them to finish popping. Finally, add the asafoetida and stir to incorporate. Switch the heat off.

Add the hot tempering to the prepared handvo batter. It will sizzle a little, so be careful. Whisk the tempering in.
To activate the batter (do this step immediately before the pouring the handvo into the tin and then bake immediately):
In a small bowl, mix together the bicarbonate of soda, baking powder and chickpea flour.

Add to the batter and whisk vigorously for 90 seconds. The batter will almost double in volume and turn a pale shade of yellow.

Immediately pour the batter into the prepared tin and bake for at 160°C/320°F for 90 minutes, or until a skewer inserted into the centre of the handvo comes out clean.

Remove from the oven and set aside. Increase the oven temperature to 200°C/400°F.
For the second tempering:
Heat the oil in a small pan. Heat the oil in a small pan. Add mustard seeds and allow them to finish popping. Next, add the sesame seeds, curry leaves and asafoetida and stir to incorporate. Cook for 15-20 seconds and then switch the heat off.

Carefully spoon this tempering all over the baked handvo, making sure the entire surface is covered. Add everything, including all of the flavourful oil.

Return the handvo to the oven for 5-10 minutes to brown the top to your liking. I like my handvo to have a deep, caramelised brown top.

Allow the handvo to cool in the tin for 1 hour before turning out. Cut into pieces and serve as a snack with hot chai.
Pin this recipe for later! Perfect Handvo (Gujarati Lentil Cake)
If you like this Perfect Handvo (Gujarati Lentil Cake), you'll love my recipe for Khaman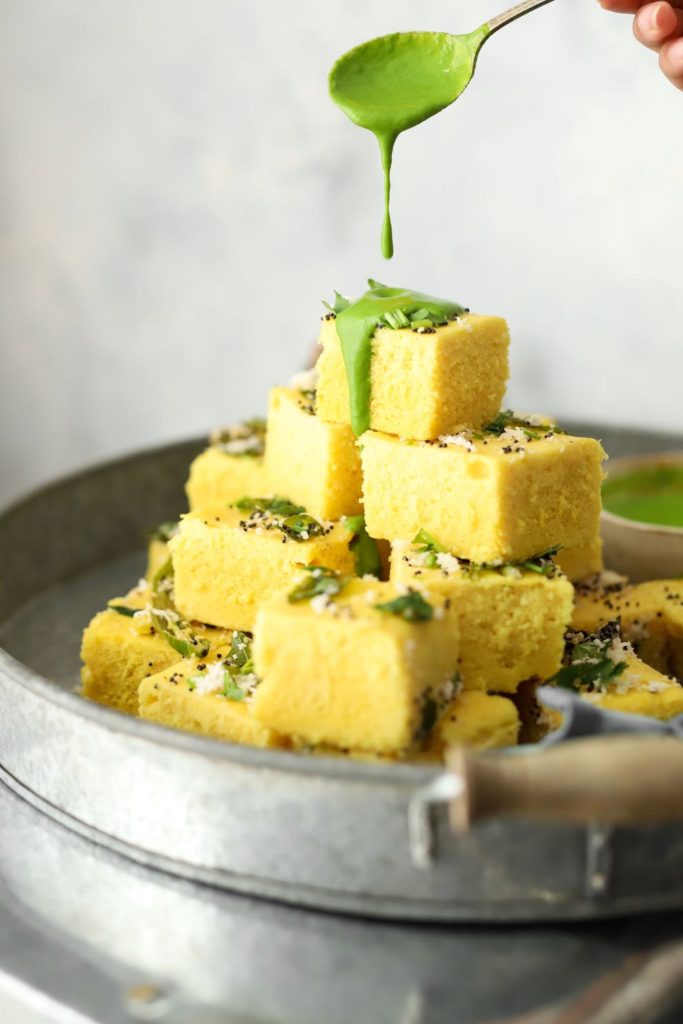 Love Sanjana