Follow my video tutorial and make this easy Garlic Butter Khichu (Papdi no Lot) recipe. These steamed Indian rice dumplings are soft and chewy in texture.
I dip them in the most delicious garlic butter to finish.
The combination of garlic butter and cumin against the blank canvas of the rice flour dumpling is so comforting and delicious.
What is Khichu (Papdi no Lot)?
Khichu is also known as Papdi no Lot, since it is the same dough ('lot') we use to make 'papad' or rice poppadoms.
Instead of rolling, dehydrating in the sun and the frying to a crisp cracker, many people choose to steam the dough for a quick snack.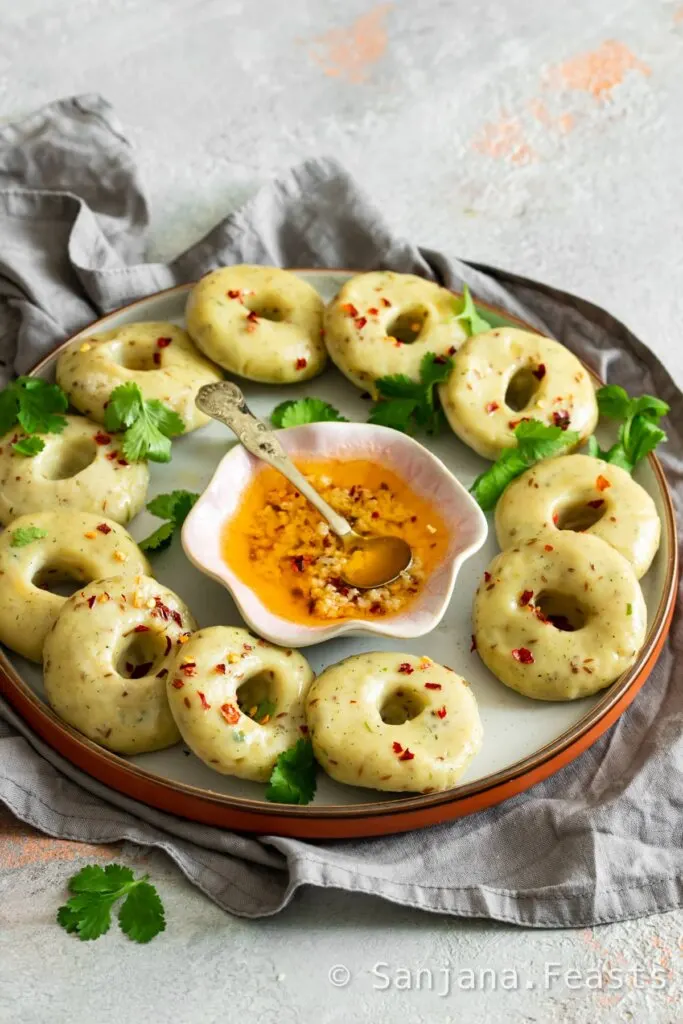 This dish has many names depending on where you're from. Some of the most common include: Khichi, Papdi no Lot, Khichu and Khichiya Papdi Lot.
The word Khichu is derived from the word 'Khinch', which means 'to pull' due to the soft and pliable nature of the rice flour dough.
While the concept of eating steamed dough might seem like a strange one for those not accustomed to it, you can liken the texture if Khichu to African Ugali or a savoury style of unstuffed Japanese Mochi.
Gujarat's famous snack
With so much focus on Gujarati snacks like Dhokla, Muthiya, Handvo and Khandvi, it's easy to forget the belly-warming pleasures of Khichu.
This steamed snack has all the tasty qualities of the aforementioned tea-time snacks, with the added bonus of being relatively low in fat (depending on how much oil or butter you choose to add).
Khichu is traditionally eaten during the monsoon season.
How to serve Khichu
Khichu with achar masala (pickle masala) and oil is a staple in most Gujarati homes and the most well-known way to serve the dish.
My take pairs the flavours of garlic bread with the classic tea-time snack. Everything's better with garlic butter!
There are as many ways to serve Khichu as there are different names for the dish.
Some people like to shape the dough into small doughnut-like pieces before steaming, whilst others will simple cook the mass of dough in a steamer, microwave or lidded pan.
My method choses the former option for even cooking and easy serving.
Alternative flours for making Garlic Butter Khichi (Papdi no Lot)
Rice flour is one of the most common flours for making Khichi (Rice Khichu) however, the dish is also delicious when we make it with mung bean (moong khichi) flour, millet flour (bajra khichi) and cornmeal (makai khichi).
Each flour will require a slightly different proportion of water.
Ingredients you need to make Khichu
Rice flour (not ground rice), water, cumin seeds, carom seeds (ajwain), green chillies, ginger, coriander leaves, salt, oil, baking soda (bicarbonate of soda) or mixed carbonates of soda (papad khar).
What is 'Kharo' or 'Papad Khar'?
Kharo or papad khar refers to mixed carbonates of soda. It is the Indian name for alkaline salt or sodium benzoate.
It is a key ingredient in dishes like Khichu and Rice Khichiya Papad (rice poppadoms). Use it in a similar way to baking soda (bicarbonate of soda).
TL;DR: Papad khar makes fried papad crispy and steamed dishes like Khichu (khichi) soft and fluffy.
How to make Gujarati Rice Khichu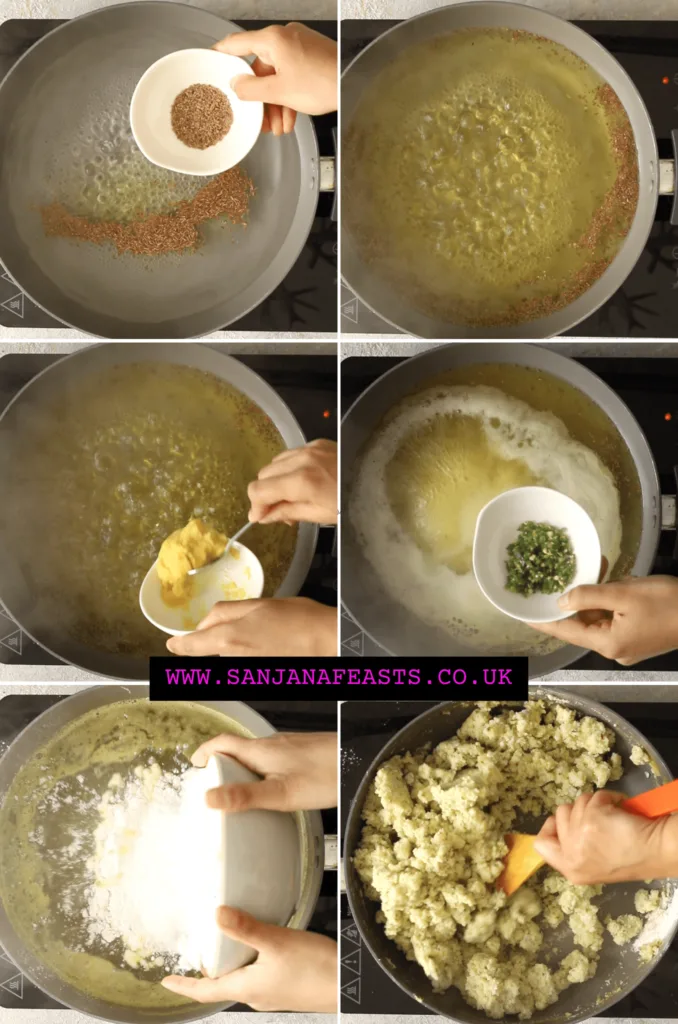 Boil the spices and herbs in water
The beautiful colour and flavour of Khichu comes from boiling spices and herbs in water until the water turns from clear to a light green.
It's important to boil the water long enough to extract colour and flavour from the aromatics.
Cover the pan of boiling water with a lid
I often like to cover the pan with a lid during this process so the water doesn't evaporate away, and therefore affect the consistency of the Khichu dough.
Add the rice flour to the water
Stir the rice flour in quickly and throughly. It will create a lumpy dough.
How to knead Khichu dough
There are a number of ways to knead the dough for Khichu. Firstly, it's important to note that the dough will be very hot; too hot to touch for most people.
Use a wooden spoon or the handle of a thin rolling pin
Begin by stirring with a wooden spoon or the handle of a rolling pin. This is the best way to incorporate the rice flour into the water.
Turn the khichu dough out
Secondly, once the dough cools, turn the dough out into a large platter or plate.
Use a steel bowl to knead the dough and remove lumps
Begin to knead the khichu dough using a small, flat-bottomed bowl. A steel bowl is ideal.
You can also add a small amount of oil to make the dough smooth and supple.
Form the Khichu into doughnut-shaped pieces (optional but cute)
Wet your hands with water or oil. Portion the dough into golf-ball sized balls, flatten and poke a hole in the centre, similar to a doughnut.
This promotes even cooking and is handy for serving.
Finally, once the dough is free from lumps, it's ready to form and/or cook out by steaming, microwaving or pan cooking.
How to cook Rice Khichu
You can steam, microwave or pan-cook Khichu. Find my top three ways to cook
How to steam Rice Khichu
First decide whether you want to serve the khichu in pieces, or cook in one solid mass. I like to form mine into small doughnut shapes for even cooking.
Set up your steamer, ensuring the water does not touch the khichu.
Place the khichu on a greased plate with holes in it and set it on top of the steaming rack.
Cover with a tight-fitting lid and steam over a medium-high heat for 18-20 minutes.
How to microwave Khichu
Cover the khichu to stop it from drying out. It will take around 5-6 minutes on high power.
How to pan cook Khichu
If you'd like to pan-cook your khichu, it will need to be in a solid mass shape. Keep the papdi no lot mixture covered and over a low heat. Stir frequently to ensure it doesn't burn.
How to cook khichu in an Instant Pot
It's entirely possible to cook the khichu in an instant pot. Set the Instant Pot up for steaming with a steamer insert and fill with water. It's important that the water does not touch the khichu.
Place the khichu on a greased plate with holes in it and set it on top of the steaming rack.
Cover with the lid and steam cook (without pressure) for 15 minutes.
Subscribe to my YouTube channel!
How to make vegan Khichu
Khichi is inherently vegan and free from dairy. Simply switch the butter in this recipe for any oil or vegan spread of your choice.
Is Khichu gluten free?
Yes, this recipe uses rice flour and is therefore, free from wheat/gluten.
Equipment I use to make Garlic Butter Khichu
Garlic Butter Khichu (Papdi no Lot) recipe
Yield: 6 servings
Garlic Butter Khichu (Papdi no Lot)
Follow my video tutorial and make this easy Garlic Butter Khichu (Papdi no Lot) recipe. It's a delicious steamed rice flour snack from Gujarat, India.
Ingredients
For the Rice Khichu
820 ml water
320 g fine rice flour, not ground rice
2 hot green chillies, finely chopped
2 tsp fresh ginger paste
1 tbsp chopped coriander
2 tsp cumin seeds
1 tsp ajwain
1/2 tsp papad khar, or bicarbonate of soda
1 1/2 tsp salt
2 tbsp oil, for shaping and greasing the steamer trays
For the Garlic Butter
80 g salted butter or vegan butter
2 large cloves garlic, crushed
1/2 tsp chilli flakes
1 tbsp chopped coriander leaves
Instructions
Pour the water into a large non-stick saucepan. Add the cumin seeds, ajwain, chilli, and coriander. Roll boil for 5 minutes. Mix in salt and the papad khar.
Add the rice flour mixture and stir with a wooden spoon. Over a low heat, beat vigorously until it forms a dough.
Tip the dough out onto a large platter. Use the base of a flat bowl to knead the dough, adding 2 tbsp oil as you work. Knead for a total for 4-5 minutes or until smooth.
Set up a large metal steamer that fits multiple baskets or perforated trays inside. You'll need about 1L of hot water in the base and to grease the trays with oil to stop the khichu from sticking.
When the mixture is still warm but cool enough to handle, wet your hands with a little water and make golf ball-sized rounds with the dough. Flatten slightly and use your thumb to make a hole in the middle of each disc. Repeat until you have used up all the dough. Arrange the khichu inside the baskets, leaving space around each one as they will inflate slightly.
Place the trays inside the steamer and close with a tight-fitting lid. Cook on a medium-high heat for 18 minutes exactly. Switch the steamer off and leave covered for 5 minutes.
Remove the lid and take the khichu out, placing them on a plate. Serve with garlic butter.
To make the Garlic Butter
Heat the butter until bubbling. Add the garlic and cook for 1-2 minutes. Add the chilli flakes. Serve with the hot khichu for dipping or brush over the surface. Garnish with fresh coriander leaves.
Notes
If you don't like garlic butter, simply serve this delicious rice Khichu with oil and achar masala or chilli powder. I often enjoy it as it is with olive oil.
Store the Khichu in an airtight container in the fridge for up to 4 days. Reheat in the microwave for 1-2 minutes until piping hot.
Freeze cooked Khichu in a freezer-safe container and steam from frozen. 8-10 minutes or until piping hot.
Nutrition Information:
Yield:

6
Serving Size:

1 grams
Amount Per Serving:
Calories:

391
Total Fat:

18g
Saturated Fat:

8g
Trans Fat:

1g
Unsaturated Fat:

10g
Cholesterol:

29mg
Sodium:

888mg
Carbohydrates:

51g
Fiber:

2g
Sugar:

0g
Protein:

4g
Pin this Garlic Butter Khichu (Papdi no Lot) recipe for later
If you like this, you'll love my recipe for Sticky Chilli Khichi
Love Sanjana