Crispy Chilli Oil Aubergine is a fragrant chilli crisp stir fry with tempura aubergines and homemade chilli oil. This Indo-Chinese dish is a flavour explosion, so serve it with plain, steamed Jasmine rice or noodles. It's delicious as a starter, main or alongside other dishes. This recipe is:
Vegan
Soy free
Nut free (depending on which oil you use)
Inspired by restaurant flavours
Great for a crowd
A restaurant-style Indo-Chinese recipe
Fresh flavours, plenty of heat and the most moreish textures aplenty! It's no secret that I'm a huge fan of Indo-Chinese cuisine. Indo-Chinese, or Indian Chinese cuisine is a style of cooking that originates from the Hakka settlers of India's eastern states.
The Chinese immigrant community in India began centuries ago, and many settlers lay down new roots around the ports of Kolkata and Madras. The vibrant and flavoursome cooking of India's Chinese communities is mouthwateringly bold and unique.
Indo-Chinese cuisine is a melting pot of aromatics and spices, all brought together in stir fried, saucy and aromatic meals. It's packed with flavour and usually coated in rich and glossy sauces.
I love to discover new Indo-Chinese dishes and innovation in this cuisine is always growing. Chilli Paneer Dosa, Hakka Pulao, Tandoori Bao Buns and Veg Lollipops, anyone?
How to choose the best aubergines for stir fry
My favourite aubergines (eggplants) for Asian stir fries are hands down, the long purple Japanese variety. I buy them from my local fruit and veg market but some large supermarkets sell them too.
The reason why I prefer these is for their firmer flesh, lower water content and distinct lack of seeds in comparison to their chubby European counterparts. This all equates to a stir fry filled with aubergines that stay crisp and hold their shape better.
Having said all of this, the recipe below still works perfectly well with European aubergines of any variety, should you only be able to source these.
What is crispy chilli oil?
Homemade crispy chilli oil, or chilli crisp is so popular these days. There is nothing quite like the aroma and warmth of it. I drizzle it on just about everything from stir fries and dumplings, to pasta and potatoes.
This year, the popularity of shop-bought brands like Lao Gan Ma crispy chilli in oil, Lee Kum Kee chiu chow chilli oil, Tonkotsu Eat the Bits chilli oil and White Mausu Peanut Rayu amongst others, has rocketed and rightly so.
A recipe for Fragrant Crispy Chilli Oil
My recipe for Fragrant Crispy Chilli Oil is by no means traditional. Meet the Chilli Oil you'll want to drizzle over everything you eat. It's a slow-simmered amalgamation of all the aromatics and flavours that make my mouth water. I add whole spices like star anise, Sichuan peppercorns, cloves and black cardamom, along with crispy Thai basil, garlic chips, shallots and even some orange peel (yes, do it!).
A liberal seasoning of salt, sugar and MSG makes this homemade chilli oil the most perfect addition to just about any dish. It's fantastic on cheese on toast, too by the way!
Tips for making homemade chilli oil
Choose the best quality chilli flakes you can afford. The deeper the red colour, the better the quality. Also bear in mind how spicy they are.
Cook the oil and aromatics low and slow. 120°C/250°F for around 30 minutes. You'll know it's done when the garlic, shallots and Thai basil turn crispy and brittle.
Allow the oil to cool for 5 minutes before you add it to the chilli flakes. Otherwise you may end up with burn chilli flakes.
If you like it extra spicy, add in some extra chilli powder or even some finely-sliced fresh chillies.
MSG is an excellent way of adding the perfect hit of umami to this chilli oil. I highly recommend using it.
Store the chilli oil in a sterilised jar with an airtight lid for up to 3 months in the fridge. I doubt it will last that long.
Other popular Indo-Chinese dishes you might like
Extra-crispy tempura aubergine for Crispy Chilli Oil Aubergine
Cut the aubergine into bite-sized batons, dunk in a simple tempura batter and deep fry squishy on the inside and crunchy on the outside. Use ice-cold water or better yet, ice-cold sparkling water for the lightest results.
Be gentle when whisking the batter. It should be able to coat the aubergine, but it doesn't need to be perfectly smooth. Leave some lumps in there.
If you have any leftover batter in your bowl after frying all the aubergines, drizzle it into the oil and fry that too. These extra crispy bits are so delicious for adding in to the aubergine stir fry at the end!
Crispy Chilli Oil Aubergine recipe
Yield: 6
Crispy Chilli Oil Aubergine
A fragrant chilli crisp stir fry with tempura aubergines and homemade chilli oil. This is a flavour explosion, so serve it with plain, steamed Jasmine rice or noodles.
Total Time:
1 hour
25 minutes
Ingredients
For the crispy aubergines
750g aubergines (I used Japanese aubergines)
10 spring onions (scallions), finely sliced, white and green parts separated
1 medium carrot, very finely diced
1 red pepper, very finely diced
1/2 tsp salt (or to taste)
2-3 Thai bird's eye chillies, finely sliced lengthways (optional)
2 tbsp oil
Extra oil for deep frying
For the tempura batter
75g plain flour (all-purpose flour)
1 tbsp cornflour (cornstarch)
1/2 tsp fine salt
200ml ice cold water
For the chilli oil
375ml any flavourless cooking oil, such as vegetable, sunflower, rapeseed or peanut oil
3 star anise
1 tbsp Sichuan peppercorns, lightly cracked in a pestle and mortar
2.5cm piece cassia bark or cinnamon
3 cloves
1 black cardamom
5cm piece orange peel
1 large shallot, peeled and finely sliced
10 large cloves garlic, peeled and finely sliced
25g Thai basil leaves
40g chilli flakes
1 tbsp Kashmiri chilli powder
1 1/2 tsp salt
2 tbsp sugar
1 tsp MSG (monosodium glutamate)
Instructions
To make the chilli oil: Place all the ingredients for the chilli oil, except for the chilli flakes, salt, sugar and MSG. Stir well and put the pan over a medium-low heat. Allow to simmer and bubble very gently for around 30 minutes. The oil temperature should be consistently around 120°C/250°F. The shallots, garlic and Thai basil will turn brittle and crispy. If you notice they start burning, reduce the heat. Once the oil has simmered, allow it to cool for 5 minutes. Meanwhile, place the chilli flakes, chilli powder, salt, sugar and MSG in a large bowl. Stir well. Very carefully pour the hot oil over them and stir well. Allow to cool. Pour the oil into a sterilised jar and close tightly. It's ready to use now but tastes even better after a few days. Storage instructions for this chilli oil are in the recipe notes below.
In a bowl, mix together the flour, cornflour and salt. Whisk in the cold water until you have a uniform, albeit slightly lumpy batter. Don't beat all the lumps out, some are fine and will make the tempura even crispier.
Top and tail the aubergines. Cut them into bite-sized batons, around 2 1/2cm long and 1cm thick.
Heat the oil in a large pan suitable for deep frying. Once the oil temperature reaches 170°C/340°F, dip the aubergine pieces in the batter and deep fry until cooked though and golden all over. Work in small batches and try not to overcrowd the oil. Each batch will take 4-5 minutes. Drain on a plate lined with absorbent kitchen towel. At the end, pour any excess batter into the oil and deep fry it until crispy. These extra tempura crispies make for the most perfect garnish!
Heat a wok or large pan over a very high heat. Once it's smoking hot, add the oil, spring onion whites and sliced chillies. Sauté for 10 seconds and then add the carrots, peppers and salt. Continue to stir fry for a minute or so before adding the crispy aubergines and 3-4 tbsp of the prepared chilli oil (as much or as little as you like!). Garnish with spring onion greens, Thai basil (optional) and your reserved tempura crispies. Serve immediately.
Notes
Make ahead: Prepare the chilli oil and keep aside. Prepare the batter, cover and keep in the fridge for up to 24 hours. Slice, dip and fry the aubergine shortly before serving. You can keep it warm in a low oven for up to 30 minutes. Stir fry the crispy aubergine immediately before serving. The longer you leave it sitting out, the less crispy it will be.
The tempura aubergine is not suitable for air frying or oven baking.
This recipe is not suitable for freezing.
Chilli oil storage instructions: The chilli oil will store in a sterilised, airtight jar in the fridge for up to 3 months.
Nutrition Information:
Yield:

6
Amount Per Serving:
Calories:

694
Pin this recipe for later!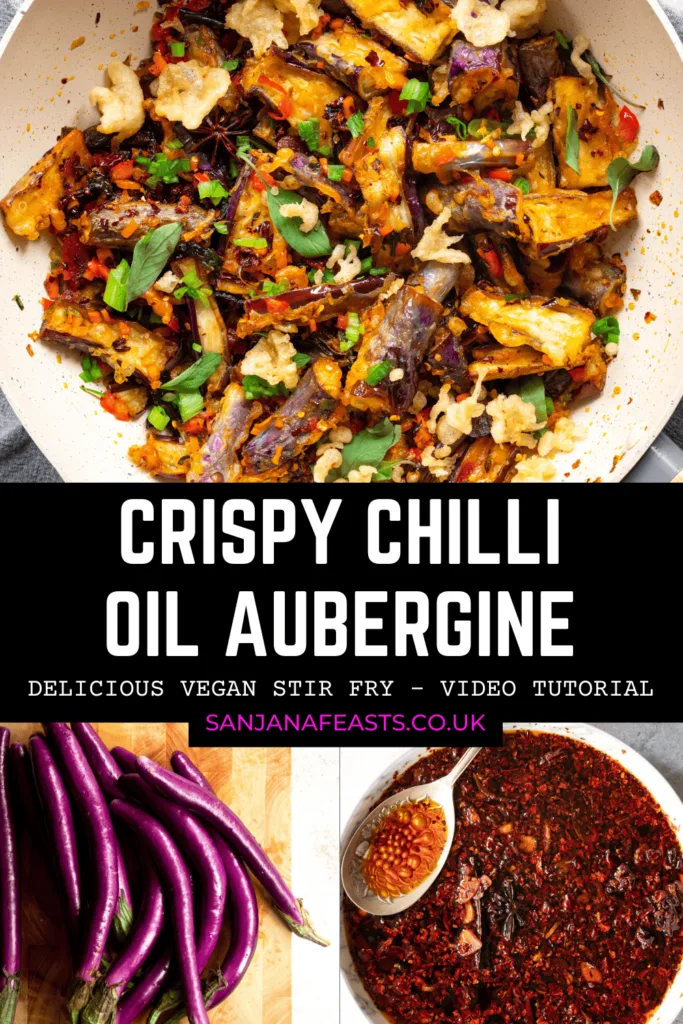 If you like this, you'll love my recipe for Hakka Noodles
Love Sanjana