Learn how to make Restaurant-Style Chilli Paneer. Crispy paneer cubes wok-fried in a chilli and garlic sauce with crunchy peppers and onions. A real Indo-Chinese crowd pleaser and Indian restaurant favourite.
Chilli Paneer: Indo-Chinese favourite
I was introduced to Indo-Chinese food in the late 90s when "fusion cooking" wasn't a dirty phrase and British curry houses were no longer the only "Indian" option when eating out in the UK.
Korma? What was that? Balti, Bhuna and Phall? I'd never heard of them. Growing up in a Gujarati household meant that I was accustomed to Bhaji nu Shaak (spinach cooked with garlic), Oroh (burnt aubergine curry) and Bhinda ni Kadhi (okra in buttermilk soup).
I'd nod and smile as my friends raved about the dishes they relished during their weekend visit to the local Indian restaurant. I had no idea what half of the dishes were. I felt like a fraud. Bombay Potatoes? Was that like the Bateta nu Shaak my mum made at home?
We rarely ate out at Indian restaurants in those days. Indeed, the vegetarian options were limited to random "mixed vegetables" swimming in generic curry sauces.
As the millennium approached, more and more options bubbled up, beginning with areas populated with a high density of Indian residents. Leicester, Wembley and Southall were all on the radar. We visited often.
It was in Leicester that I first read the words "Indo-Chinese fusion dishes" on a restaurant menu. I wanted to know more. I therefore made it my mission to try them all.
Chilli Paneer, Veg Manchurian, Hakka Noodles, Spring Rolls, Mixed Rice & Noodle Sizzler and even Szechuan Dosa. I ordered as much as I could manage and that was the day I fell in love with Chilli Paneer.
Where does Indo-Chinese food come from?
I later learned that Indo-Chinese food, also known as Desi Chinese was a cuisine developed by the Chinese community of Kolkata, West Bengal.
It became a lifelong dream of mine to visit Kolkata's Chinatown and enjoy Hakka-Indian food in its original birthplace. Just as my grandparents and thousands of other families brought Indian cuisine to East Africa and the British embraced Indian curry, this small community of Hakka settlers shared the gift of their ancestral cuisine with Kolkata.
Little did they know that it would lead to the creation of a truly exquisite Indian-Chinese food culture that's now internationally sought after. Food travels regardless of borders.
What is Chilli Paneer?
This is pure comfort food which is why it's such a treat when eating out. It's spicy, garlicky, smoky and umami-rich with a liberal attitude towards rivers of soy sauce and the addition of MSG (ajinomoto) in most dishes. It's not a style of cooking that shys away from battering and deep frying either.
Green chilli, spring onions, ginger, garlic, tomato ketchup, soy sauce, chilli sauce, vinegar, turmeric, black pepper and sugar are all widely-used ingredients in Indo-Chinese dishes.
5 tips for making the best chilli paneer
A smoking hot wok is essential for the highly coveted wok hei caramelisation and aromas.
Prepare all the ingredients ahead of time. Chop the vegetables, get the sauces and seasonings ready. The fast cooking over high heat is what keeps everything fresh, crunchy and delicious.
For super soft paneer, first soak the uncooked paneer cubes in hot water for 10 minutes before using.
For a truly restaurant flavour, add 1/4 tsp MSG to this recipe
Indo-Chinese food is all about taking an abundance of fresh veg, protein and Indian spices and pairing them with sticky, umami-rich cornflour-thickened sauces.
These sauces are unlike anything you get in traditional Indian cooking.
You might also like
The best chilli paneer in the UK
My Instagram family have recently made their love of Chilli Paneer very clear. After a poll, they voted Leicester restaurants Indigo, Chai Paani and Tangoe as the best places to eat the famous dish.
Special mention for Sakonis which isn't in Leicester (they have restaurants in Wembley) but still do a delicious Chilli Paneer.
Luckily, I've tried them all and did my best to recreate a delicious version.
Formula for amazing chilli paneer (dry)
The criteria is as follows
The paneer needs to be juicy on the inside and crispy on the outside.
The peppers must retain crunch.
The sauce has to be loaded with garlic.
No tomatoes
Lots of green chillies, soy sauce-rich and slightly sweet.
Well my friends, I think I may have nailed it but I'll let you have the final say on that. If you've never tried Indo-Chinese food before, Chilli Paneer is one fusion dish worth trying.
Restaurant-Style Chilli Paneer – Recipe Card
Yield: 6
Restaurant-Style Chilli Paneer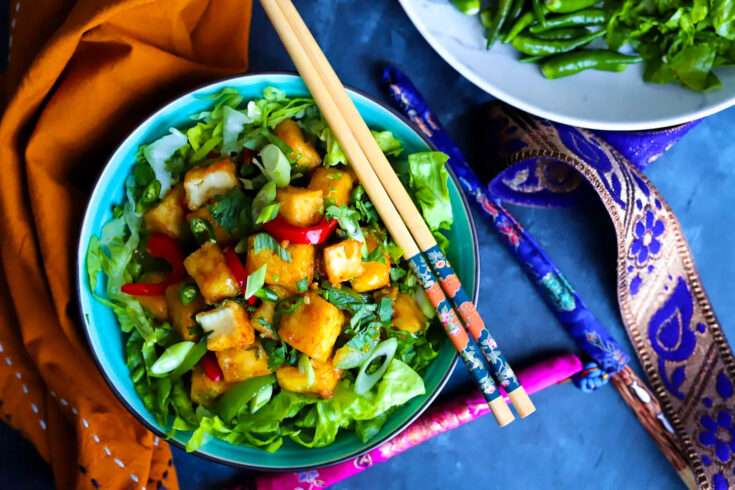 Crispy paneer cubes wok-fried in a chilli and garlic sauce with crunchy peppers and onions. A real Indo-Chinese crowd pleaser and Indian restaurant favourite.
Ingredients
450g paneer, cut into 2cm cubes
2 tbsp cornflour (cornstarch)
1 tsp ground white pepper
1/2 tsp salt
3 peppers, sliced into 3cm strips (I use red and green)
10 spring onions, sliced on the bias, some greens reserved for garnishing
3 tbsp sunflower or rapeseed oil
8 large cloves garlic, crushed
4 green chillies, sliced on the bias
3 tbsp light soy sauce (if you want a darker colour, use dark soy sauce)
1 tsp sugar
2 tbsp fresh coriander, chopped (optional)
Shredded lettuce to serve
Instructions
Mix together the cornflour, white pepper and salt. Coat the paneer in the cornflour mixture.
Heat the oil in a large wok add the paneer. Fry until crispy and golden all over. Remove with a slotted spoon and place on a plate lined with kitchen paper to absorb any excess oil.
In the remaining oil, add the garlic, chillies, 3/4 of the spring onions, peppers, soy sauce and sugar. Sauté over a high heat for a minute and then add the paneer. Toss to combine.
Serve on a bed of shredded lettuce, garnished with the reserved spring onions and optional coriander.


Notes
For super soft paneer, first soak the uncooked paneer cubes in hot water for 10 minutes before using.
Nutrition Information:
Yield:

6
Serving Size:

1
Amount Per Serving:
Calories:

339
Total Fat:

25g
Saturated Fat:

10g
Trans Fat:

1g
Unsaturated Fat:

12g
Cholesterol:

52mg
Sodium:

1313mg
Carbohydrates:

13g
Fiber:

3g
Sugar:

5g
Protein:

17g
Pin it for later!
Love Sanjana