Have you always wanted to learn how to make amazing home-style Punjabi Mooli Paratha?
You've landed in the right place!
There's nothing like the smoky waft of ghee-sizzled Punjabi Mooli Paratha as it seeps through a cracked-open window of a loved-one's home.
It's the equivalent of Charlie Bucket peering through the glass of Bill's Candy Shop in the movie Willy Wonka and the Chocolate Factory.
The aromas are so inviting you can't help but meander in for a sneaky peek at the goods on offer.
The marvellous surprises that await inside are not Wonka's Whipple-Scrumptious Fudgemallow Delights and Golden Ticket-clad chocolate bars.
We're talking spicy radish-stuffed flatbreads from the land of Punjab, the bread basket of India.
I'll pick savoury over sweet any day!
What are Punjabi Mooli Paratha?
Punjabi Mooli Paratha are an unleavened style of Indian flatbread with a peppery filling of white radish, also known as Daikon.
The Mooli Paratha are cooked on a flat griddle with a liberal lick of ghee until they're crispy on the outside.
I also like to add lots of freshly-grated ginger, chillies and a handful of spices.
These are some of the most flavoursome parathas you'll ever eat.
This simple recipe, reminiscent of Punjabi homestyle Mooli Paratha is:
Light and crispy
Simple to make
Perfect for breakfast or lunch
Vegetarian
No-fail method for rolling
How to make Paratha dough
My foolproof recipe for homemade stuffed paratha dough is so simple and produces a bread that is crispy, with a toasty flavour.
This is due to the addition of gram flour (besan), which is made from chickpeas.
The dough is stretchy and encases all kinds of paratha fillings beautifully.
In a large bowl or thali, mix together the wholewheat atta (chapati flour), gram flour and salt.
Make a well in the centre and gradually add the water. Use your hands to bring the mixture together.
Once it starts looking like a shaggy mixture and more like a dough, knead for 3-4 minutes.
Add the oil and continue to knead for a further 2 minutes until smooth and soft.
Cover with a damp tea towel and allow the dough to rest for 15-20 minutes.
How to prepare Mooli (radish) for paratha
Here's a quick and simple method for preparing your fresh mooli (radish/daikon).
You can buy these beautiful white radishes in large supermarkets, in Asian grocers, or at your local fruit and veg market stall.
3 methods for rolling Paratha
There are three ways of making stuffed paratha.
Each method yields a delicious, crispy finish so the choice is yours.
These are the three options you have for making your paratha.
Roll a circle of dough and encase the filling inside before you roll. This is my favourite method and my go-to technique since it produces thin paratha with an evenly-distributed filling. You will need to ensure you seal the dough properly or the paratha may tear. Watch my recipe video in this post to see the paratha-rolling technique in action.

Choose this for: Aloo Paratha, Mooli Paratha, Daal Paratha, Onion Paratha, Gobi Paratha, Cheese Paratha.

Mix the stuffing with the flour and knead to form a dough. Before you add any water to the flour, be sure to add in all of your vegetables and squeeze to release the water from the veggies. Some vegetables have a higher water content than others so you will need to adjust the amount of water you add and incorporate it slowly. This option works best for simple paratha flavoured with either spices or herbs.

Choose this for: Methi Paratha, Black Pepper Paratha, Chilli Paratha, Lauki Paratha, Mooli Paratha, Mint Paratha.

Stuff the filling between two thinly-rolled circles of dough (rotis). Press all around the edges to seal the paratha up. This is a great choice if you like your paratha to be full of stuffing masala. It's also a good option for stuffing that is a little more coarse in texture, since the paratha will not be rolled out with the stuffing inside. This reduces tears and holes.

Choose this for: Aloo Paratha, Paneer Paratha, Vegetable Paratha, Keema Paratha, Gobi Paratha.
Tips for making Punjabi Mooli Paratha
Squeeze as much water out of the mooli (radish) before you add the spices. Grate the mooli, place it in a bowl, add some salt and mix well. Allow the grated mooli to sit for 10 minutes and then squeeze out as much water as possible. You can put this water to good use by adding it to the measured amount of water required in this Mooli Paratha recipe. Zero waste.

Go heavy on the spices. The filling mixture should have lots of flavour, since the dough itself is plain. It might taste quite strong when you try it raw but trust me, this will produce delicious parathas.

Knead, and then allow the dough to rest for at least 15-20 minutes (covered). This is really important and gives the gluten in the dough time to relax so you can roll it easily.

Remember that with Mooli Paratha, the filling is bound to peek through the dough as you roll. Adding raw mooli gives the paratha a much more flavour than if you were to cook it first. With this in mind, the parathas will not rise up like a balloon, as they do in my Aloo Paratha recipe.

Brush with ghee or oil as you cook the Mooli Paratha. I like to dry toast both sides first as the parathas brown better this way.
How to serve Mooli Paratha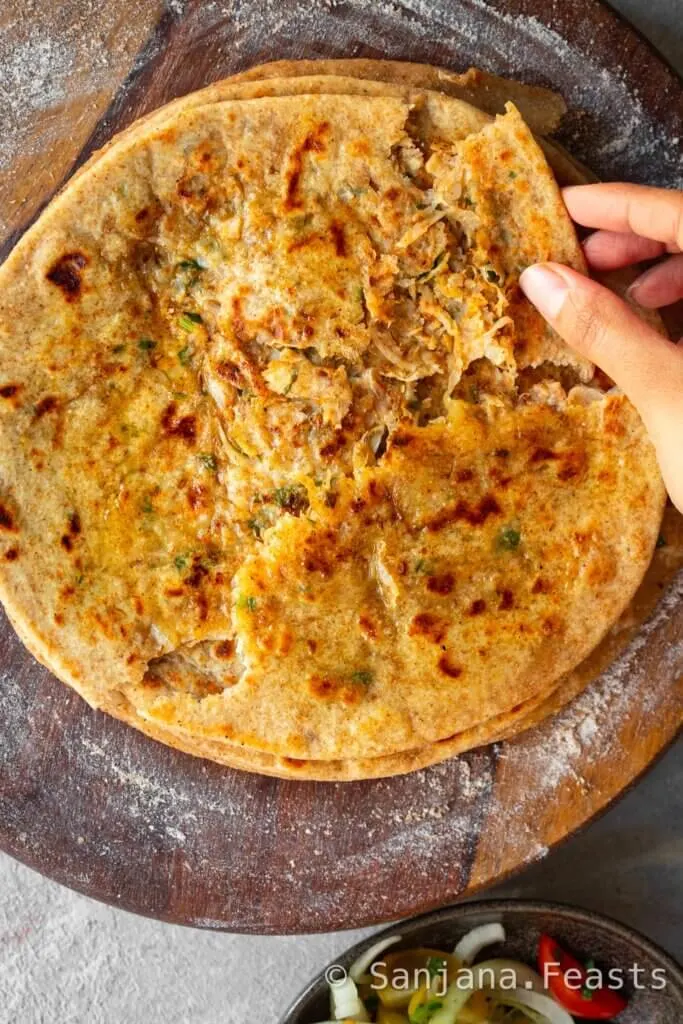 For breakfast and lunch
Alongside spicy achar (pickle), dahi (plain yoghurt) and chai (masala tea), you have the ultimate Punjabi breakfast.
A dollop of makhan (white butter) is the perfect finish for any paratha, including this recipe for Mooli Paratha.
For dinner
While some may argue that homemade Mooli Paratha pair best with breakfast items like pickles and yoghurt, I love them with daal.
Thick, luscious Punjabi dhaba-style (cafe style) daals, topped with melting butter, alongside a cold, salty Lassi.
Bliss.
If you've never tried Mooli Paratha with Daal Makhani, Moong Daal or Channa Daal, you're in for a real treat.
More delicious Indian bread recipes
Punjabi Mooli Paratha recipe | How to make Punjabi Mooli Paratha
Yield: 6
Punjabi Mooli Paratha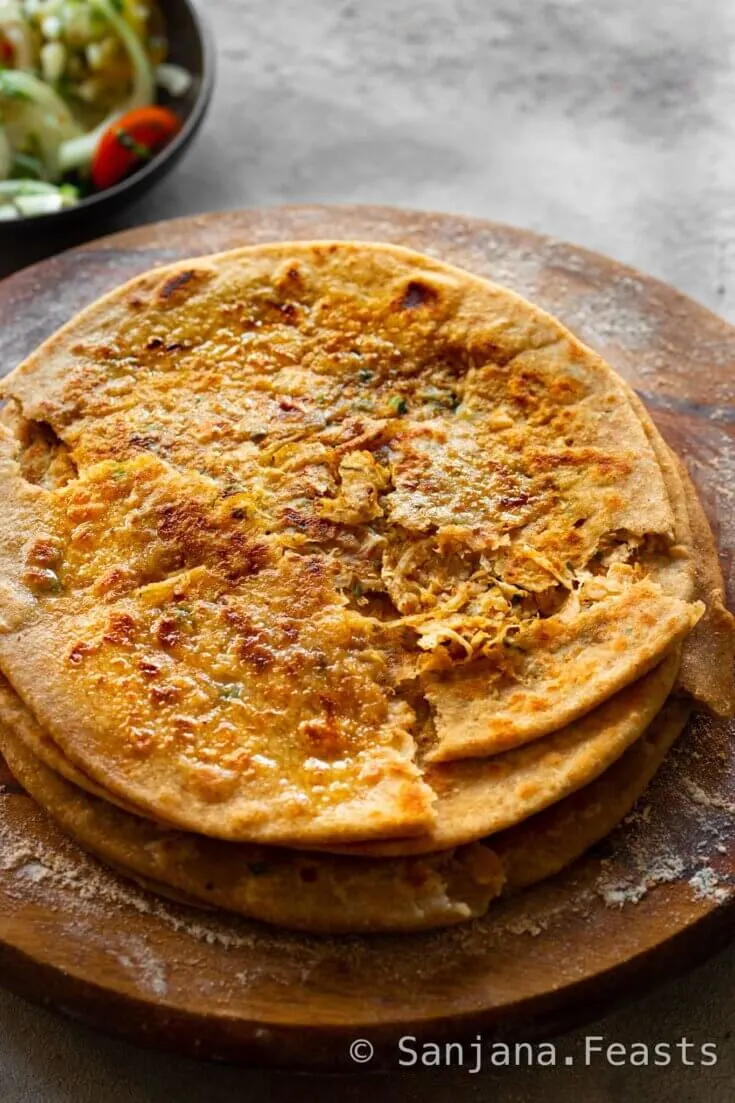 Light and crispy radish-stuffed flatbreads from the land of Punjab. These make for a delicious Indian vegetarian breakfast alongside yoghurt, achar and masala chai.
Ingredients
For the mooli paratha filling
450g mooli (white radish/daikon)
2.5cm piece fresh ginger, peeled and minced
1 green chilli, minced
1/2 tsp garam masala
1 tsp cumin seeds
1/4 tsp red chilli powder
1/4 tsp carom seeds (ajwain)
1/2 tsp dried sour mango powder (amchur)
1/4 tsp salt
2 tbsp finely-chopped coriander leaves
For the mooli paratha dough
185g wholewheat chapati flour (atta)
1 tbsp gram flour (besan)
1/2 tsp salt
130ml warm water
1/2 tbsp any cooking oil
You will also need
2-3 tbsp melted ghee or oil, for cooking the paratha
Instructions
To make the dough, in a large bowl or thali, mix together the wholewheat chapati flour, gram flour and salt. Make a well in the centre and gradually add the water (note: you may also use excess mooli water - see step 2 on saving the water and add it in to make up the correct measure of water as per the recipe). Use your hands to bring the mixture together. Once it starts looking like a shaggy mixture and more like a dough, knead for 2-3 minutes. Add the oil and continue to knead for a further 2 minutes until smooth and soft. Cover with a damp tea towel and allow the dough to rest for 15-20 minutes.
To prepare the mooli, top and tail the radish and peel the skin with a vegetable peeler. Cut the mooli into 3-4 large chunks and grate using the coarse side of a cheese grater. Place the grated mooli into a bowl and sprinkle with 1/2 tsp salt. Stir well and allow to sit for 10 minutes. The salt will draw excess moisture out of the mooli so the filling is not too wet. Squeeze the water from the mooli into a separate bowl. Be sure to squeeze it very well. Save the water.
Dry roast the cumin seeds in a pan, until they're aromatic and toasty, about 90 seconds. Grind them coarsely in a pestle and mortar or using a rolling pin.
Add the ground cumin to the grated and squeezed mooli, along with the garam masala, amchur, chilli powder, ajwain, ginger, chilli and coriander. Stir well and set aside.
Divide the rested dough into 6 portions and roll into balls. Divide the filling into 6 equal portions.
Roll or pat the dough out to about 6cm in diameter. Place a portion of mooli filling on top and pinch the dough together to fully enclose it inside. There should be no gaps or holes. Dust with additional flour.
Place the dough on a rolling board or clean work surface and gently use your middle three fingers (palm-side down) to pat the dough into a thick round disc, starting from the centre and working your way outwards. This will help distribute the filling evenly.
Use a rolling pin to gently roll the Mooli Paratha in a circular motion, between the centre and edges, but not too much over them. You can use your hands to turn it as you roll. Once it reaches the desired size (20-22cm), carefully roll up and down a few times to even out the surface. The paratha is now ready to be cooked.
Slap the paratha down onto a preheated tawa or frying pan and cook over a medium heat for 30-40 seconds. Flip it over with a spatula and apply a small amount of ghee or oil all over the surface of the paratha. Allow this side to cook for a minute before flipping it over and applying ghee or oil on the second side. Once it is golden brown all over, remove from the tawa. Keep warm on a plate lined with a kitchen towel or in a clean tea towel. Repeat for the remaining parathas.
Serve hot with your favourite pickle, plain yoghurt and/or masala chai.
Notes
For vegan Mooli Paratha, simply switch the ghee for oil when cooking.
Freeze cooked Mooli Paratha in a stack, wrapped well in cling film and aluminium foil for up to 3 months. Place sheets of baking parchment between each paratha so they don't stick together. Reheat from frozen, in a pre-heated frying pan or tawa. No need to thaw.
Nutrition Information:
Yield:

6
Serving Size:

1
Amount Per Serving:
Calories:

364
Total Fat:

21g
Saturated Fat:

10g
Trans Fat:

0g
Unsaturated Fat:

9g
Cholesterol:

33mg
Sodium:

449mg
Carbohydrates:

38g
Fiber:

5g
Sugar:

2g
Protein:

6g
Nutrition information isn't always accurate.
Pin this recipe for later
If you like this, you'll love my recipe for Aloo Paratha
Love Sanjana